Olivia Revitt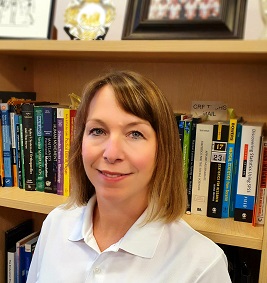 Olivia is a lecturer in Physiotherapy in the School of Healthcare at the University of Leicester. Having gained a BSc (hons) in Sport and Exercise Science with Psychology from the University of Gloucestershire in 2003 she embarked on a MSc (pre-registration) in Physiotherapy at University of East Anglia from which she graduated in 2006. She completed various posts within the NHS and joined the Pulmonary Rehabilitation department at Glenfield Hospital, Leicester in 2006 as a junior Physiotherapist. Olivia has been involved in developing the clinical department over the last 13 years and has been involved with the development and implementation of Breathlessness Rehabilitation, The National Asthma & COPD Audit programme (NACAP) and more recently progression towards Pulmonary Rehabilitation Services Accreditation Scheme (PRSAS). Olivia has worked closely with Loughborough College in the development and delivery of the Level 4 Chronic Respiratory Disease Exercise Instructor Course to provide the knowledge and skills to implement maintenance classes for individuals with Chronic Respiratory Disease in the community locally and nationally.
Olivia is a member of the Association of Physiotherapists in Respiratory Care (ACPRC), British Thoracic Society (BTS) and an assessor for the PRSAS. She has attended and presented at the BTS conference and also delivered sessions on 'The Fundamentals of Pulmonary Rehabilitation' short course. She has also delivered sessions on The Advanced Course in Pulmonary Rehabilitation for the Centre for Exercise and Rehabilitation Science (CERS) at Glenfield Hospital, Leicester.
Olivia has been involved in research throughout her career which has centred on Pulmonary Rehabilitation.
Publications
Revitt, O., Sewell, L., Morgan, M., Singh, S. A Short Out- Patient Pulmonary Rehabilitation Programme Reduces Readmission Following a Hospitalisation for an Exacerbation of Copd; Respirology; October 2013
Revitt, O., Sewell, L., Singh, S. Early versus delayed pulmonary rehabilitation: A randomized controlled trial – Can we do it?; Chronic Respiratory Disease; January 2018
Jones, A. Evans, R. Revitt, O. Outcome measures in a combined exercise rehabilitation programme for adults with COPD and chronic heart failure: A preliminary stakeholder consensus event; Chronic Respiratory Disease; September 2019
Thomas, V. Revitt, O, Ward, S, Singh, S. To explore the prevalence and impact of hip and/or knee in patients presenting for pulmonary rehabilitation; British Thoracic Society Conference Paper; December 2018