Callum Young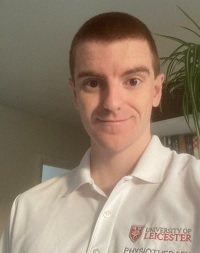 Callum qualified as a physiotherapist in 2013 from the University of Hertfordshire and then gained his first rotational physiotherapist post role at the University Hospitals of Leicester teaching trust. He completed rotations in MSK outpatients at the Glenfield hospital and the Leicester General hospital, trauma and orthopaedics, respiratory medicine, I.C.U, cardiac surgery and cardiology. Callum then went onto specialise in MSK physiotherapy. Still working at the University Hospital of Leicester Callum completed nine month rotations across the three main hospital sites in Leicester working in all three outpatient sites, spinal trauma, elective orthopaedics, fracture clinic and at De Montfort University.
In 2018, Callum moved to Loughborough hospital working in the MSK outpatient department. He has taken an active interest in restructuring the lower limb rehabilitation gym class sessions and has also been a part of the spinal interest group where he worked in a small team developing and updating the moving and handling training across Leicestershire.
Callum now combines his time working clinically at Loughborough hospital for two days a week and the other three is spent at the University of Leicester teaching.