Dr
Mandi Jamalian
Lecturer in Marketing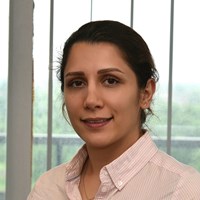 Profile
I joined the University of Leicester as a Graduate Teaching Assistant in 2015 while at the same time studying for my doctoral research full time at the School of Management (now School of Business). During this time, I worked on a number of research projects alongside my PhD (see the publications). I also led a Management module for two cohorts of students on the International Year One programme at the Leicester Global Study Centre. On completion of my PhD in 2020, I started working as a Teaching Fellow at ULSB prior to taking up my current post as a Lecturer in Marketing in 2021.
Research
My main research interests include consumer experience and behaviour; tourism, leisure and cultural consumption; qualitative and ethnographic research methods. In my PhD thesis titled 'A More-Than-Representational Understanding of Dark Tourism Places', I explored how places of death and their meanings are produced, consumed and reconstructed through the embodied practices in and around them. The findings from this study add to a growing body of literature on dark tourism and enhance our understanding of place consumption.
I am currently working on a number of research projects relating to the co-creation in different tourism contexts.
Publications
(0)
Papadopoulos, O., Lopez-Andreu, M., & Jamalian, M. (2021). Violation and lack of awareness of employment rights in the United Kingdom's hotel industry: Isolation, fragmentation and barriers to labour enforcement. Industrial Relations Journal, 1- 16. View abstract
Jamalian, M., Kavaratzis, M., & Saren, M. (2020). A happy experience of a dark place: Consuming and performing the Jallianwala Bagh. Tourism Management, 81, 104168. View abstract
Lopez Andreu, M., Papadopolous, O., & Jamalian, M. (2019). How has the UK hotels sector been affected by the fissuring of the worker-employer relationship in the last 10 years? Director of Labour Market Enforcement: London. Pp. 1-58. View
Paper presentations
Jamalian, M., Kavaratzis, M. and Saren, M. (2019) Tourist Photography: The experience of visitors at the Jallianwala Bagh Massacre Memorial, paper presented at the Travel and Tourism Association Europe 2019 Conference, 7-10 April, Bournemouth, UK.
Jamalian, M., Kavaratzis, M. and Saren, M. (2019) A place for remembrance, rest and selfies, paper presented at the 6th Corfu Place Marketing and Branding Symposium, 6-10 May, Corfu, Greece.
Artwork presentations
IPBA Art Gallery (2019). It's a dark but a happy place. University of Thessaly, Volos, Greece View
Images of Research competition (2018). In Search for Inner Peace. University of Leicester. [Katherine May People's Choice Award Winner] View
.
Supervision
Alongside UG and PG dissertations, I am currently supervising several PhD projects. I am particularly interested in supervising students in the following areas:
The experience of place
Tourist experience and consumer behaviour
Tourism, leisure and cultural consumption
Services marketing
Place & destination marketing
Ethnography
Teaching
MN3119 Services Marketing (Module Lead)
MN3204 Undergraduate Dissertation Supervision
Activities
Academic Leadership:
BA Marketing Undergraduate Programme Lead
Academic Year Tutor for BA Marketing Year 3
Awards
Qualifications
Fellow of the Higher Education Academy (FHEA)