Dr
Kath Clark
Senior Lecturer in Biological and Natural Sciences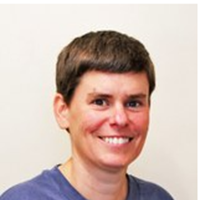 Profile
I graduated from the University of Kent at Canterbury with an honours degree in Biochemistry with a year in industry. I worked at British Biotechnology a small biotechnology company for my sandwich year (3rd year). The industrial experience motivated me to continue in research and I moved to the University of Manchester to undertake my PhD. My research focused on the integrin family of cell adhesion molecules. This fuelled my interest in cell adhesion and migration and with the opportunity for living abroad I moved to America for 5 years and worked as a Post-doctoral Research Fellow at the National Institutes of Health (NIH) in Bethesda Maryland. I returned to the UK and to Leicester to continue my research on the cell cytoskeleton for a further 5 years.
My passion for teaching started with assisting students in the research laboratory and supervising PhD masters and undergraduate projects. I starting teaching for the Masters course in Cancer Cell and Molecular Biology for the Department of Molecular and Cell Biology at the University of Leicester in 2007 and for the Centre for Interdisciplinary (Natural) Science in 2013. In addition I've taught at NTU and DMU.
Research
I currently have no research activities in Biological Sciences. I have run 3 month Pedagogical research projects with PhD students that are interested in teaching.
Publications
For publications see: https://leicester.academia.edu/KatherineClark
Supervision
Pedagogical research in Biological / Natural Sciences
Teaching
MSc/MBiolSci in Cancer Cell and Molecular Biology
BSc/MSci in Natural Sciences (Life and Physical Sciences)