Dr
James Hodgkinson
Associate Professor of Chemistry and Chemical Biology
Profile
James completed his undergraduate degree in chemistry at Queens University Belfast (2007) followed by a PhD at the University of Cambridge (2011). After a Junior Research Fellowship at Trinity College Cambridge he was appointed as a lecturer at the University of Leicester (2016) and is currently an Associate Professor in chemistry and chemical biology. Research in the lab has been supported by the UKRI, LD3, and The Royal Society.
Research
Chemical Probe Synthesis and Chemical Biology
My research group is focused on the chemical synthesis of new diverse molecular probes and compound libraries specifically tailored to study biological processes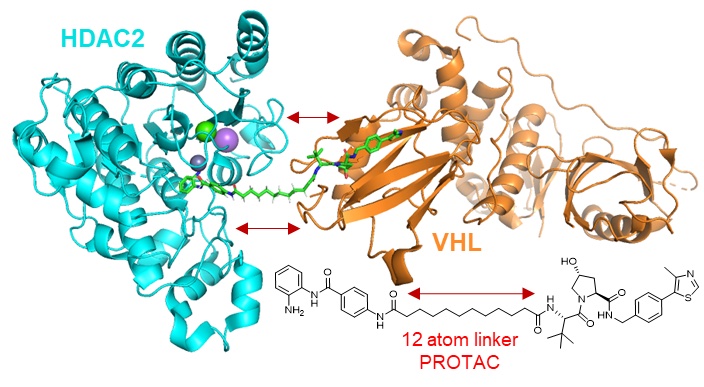 at a molecular level. Applications of such probes and libraries include; mode of action(s) studies, investigating novel ligand-protein interactions, overcoming membrane permeability, inhibitor design and selective targeted degradation by the proteasome. The overall aim is to understand how the biological processes under investigation can be altered and regulated with structural modifications to the small molecule probe.
In collaboration with Professor Shaun Cowley and Professor John Schwabe current biological macromolecules under study with novel chemical probes include epigenetic protein complexes. Such large multi-protein complexes, involved in chromatin modification, play important roles in many diseases including neurological disorders, immune disorders and cancer. A novel approach we are interested in is the synthesis and design of PROTACs (Proteolysis Targeting Chimeras) to specifically target epigenetic protein complexes for ubiquitination and subsequently proteasome mediated cellular degradation. PROTAC molecules typically incorporate a ligand for recognition by the protein of interest separated by a linker moiety that is covalently tethered to an E3 ligase ligand. Other approaches include the design and synthesis of peptides tailored to act as 'molecular glue' to stabilise such protein complexes for further biochemical studies.
Group members
Dr. Josh Smalley, Megan Coulson, Urvashi Patel, Wiktoria Pytel
See the Group Page here
Publications
(0)
Comprehensive Transcriptomic Analysis of Novel Class I HDAC Proteolysis Targeting Chimeras (PROTACs), I.M. Baker, J.P. Smalley, K.A. Sabat, J.T. Hodgkinson, S.M. Cowley, Biochemistry, 2023, 62, 645-656.
A 'Click' Chemistry Approach to Novel Entinostat (MS-275) based Class I Histone Deacetylase Proteolysis Targeting Chimeras, J.M. Cross, M.E. Coulson, J.P. Smalley, W.A. Pytel, O. Ismail, J.S. Trory, S.M. Cowley, J.T. Hodgkinson, RSC Med. Chem. 2022, 13, 1634-1639
Optimization of Class I Histone Deacetylase PROTACs Reveals that HDAC1/2 Degradation is Critical to Induce Apoptosis and Cell Arrest in Cancer Cells, J.P. Smalley, I.M. Baker, W.A. Pytel, L.Y. Lin, K.J. Bowmann, J.W.R. Schwabe, S.M. Cowley, J.T. Hodgkinson, J. Med. Chem. 2022, 65, 5642-5659.

PROTAC-mediated degradation of class I histone deacetylase enzymes in corepressor complexes, J. P. Smalley, G. E. Adams, C. J. Millard, Y. Song, J. K. S. Norris, J. W. R. Schwabe, S. M. Cowley, J. T. Hodgkinson, Chem. Commun. 2020, 56, 4476-4479.

HDAC3 deacetylates the DNA mismatch repair factor MutSβ to stimulate triplet repeat expansions, G.M. Williams, V. Paschalis, J. Ortega, F. W. Muskett, J.T. Hodgkinson, G. Li, J.W.R. Schwabe, R.S. Lahue. Proc. Natl. Acad. Sci. U.S.A. 2020, 117, 23597-23605.
Bifunctional HDAC Therapeutics: One Drug to Rule Them All? J.P. Smalley, S.M. Cowley, J.T. Hodgkinson, Molecules, 2020, 25, 4394.
Siderophore-Antibiotic Conjugate Design - New Drugs for Bad Bugs? K. H. Negash, J. K. S. Norris, J. T. Hodgkinson, Molecules, 2019, 24, 3314.
The design and synthesis of an antibacterial phenothiazine–siderophore conjugate, A. Tarapdar, J. K. S. Norris, O. Sampson, G. Mukamolova, J. T. Hodgkinson, Beilstein J. Org. Chem., 2018, 14, 2646–2650.
A new pseudomonas quinolone signal (PQS) binding partner: MexG, J. T. Hodgkinson, J. Gross, Y.R. Baker, D.R. Spring, M. Welch, Chem. Sci. 2016, 7, 2553-2562
For full publication list see: https://orcid.org/0000-0001-9978-7322
.
Supervision
James supervises projects in organic chemistry and chemical biology. His projects are in the research areas areas of:
Chemical Biology
Medicinal Chemistry
Synthetic Organic Chemistry
Drug Discovery
Please contact me directly for enquires regarding opportunities for PhD studentships or postdoctoral positions.
Teaching
James is the course leader for the Pharmaceutical degree course and lectures modules in organic chemistry and medicinal chemistry and is a Fellow of the Higher Education Academy (FHEA).
Press and media
Activities
Fellow of the Higher Education Academy
Conferences
Invited speaker - Technical University of Denmark, Copenhagen, 10th Feb 2023
Invited speaker - IPDD - Structure-based Drug Design meeting, LINXS, Lund, Sweden, 14th-15th November 2022
Invited speaker - University of Sussex, 19th October 2022
Invited speaker - 30th Annual GP2A Conference (Group for the Promotion of Pharmaceutical chemistry in Academia), Trinity College, Dublin, 24th-28th, August 2022
Invited speaker - Keele University, 17th August, 2022
Invited speaker - SCI Conference: Targeting protein degradation 3 – from discovery to the clinic, Society of Chemical Industry, London, 8th and 9th June 2022
Invited speaker - University of Nottingham, 11th May, 2022
Invited speaker - University of York, 19th Nov, 2021
Invited speaker - Young Chemists 2021, Imperial College London (remote), 23rd April 2021
Invited speaker - RSC Chemical Biology and Bio-Organic Group (CBBG) Forum, 10th Jan 2020
Invited speaker - Polymicrobial Meeting, Cambridge, 11th Dec 2019
Invited speaker - Gregynog Synthesis Workshop, Wales, 13th Sept 2018
Poster presentation - Astbury Conversation, Leeds, 16th April 2018
Invited speaker - RSC East Midlands organic section meeting, Leicester, 5th April 2017