Dr
Essam Abo-Serie
Lecturer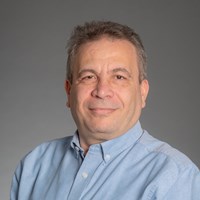 School/Department: Engineering, School of
Email: e.aboserie@leicester.ac.uk
Address: Engineering Building, room 703, School of Engineering, University of Leicester, University Road, Leicester LE1 7RH.
Web:
Profile
My current research and teaching have been greatly influenced by my experiences – I've lived and worked in several countries and have been involved in various projects. I believe that engineers and scientists share the ultimate aim of improving the quality of life. In the early stages of my career, I was deeply fascinated with fundamental research and new discoveries, particularly during my PhD study at Imperial College London. However, this type of research often requires expensive facilities to explore new phenomena. Unfortunately, not all universities where I have been working had access to such resources. As I moved from one country and university to another, I noticed a common goal: the integration of academia with industry. Many industrial challenges do not necessarily demand fundamental research but instead, require the application of existing knowledge available in publications to solve practical problems and produce high-quality products.
Consequently, I find myself more passionate about solving engineering problems and bridging the gap between academia and industry. This also reflects greatly on my teaching. It is more about finding a practical problem to solve, clearly this was well received by the students who wants to join the industry as engineers. On the research side, it became both a challenge and a joy, as I work on multidisciplinary industrial projects that involve various external factors. While my major research area focused on Atomisation and spray for almost 10 years, I now frequently lead and engage in projects about structure, welding, casting, control, and optics. Recently, I have worked on optimizing a cooling system for 3-D printed high-pressure die-casting tools, designing an optical system for robotic arm welding, creating a heart assist device, and enhancing electric motor cooling. I look forward to embracing more challenges, especially in heat transfer, energy efficiency and environmental protection with multidisciplinary projects involve electrification and autonomous applications.
Research
Dr Abo-Serie is a core member of the Thermofluids Research Group. He has extensive research experience in nozzle flow, spray characterization using optical techniques, and thermal system optimization. He has worked on research projects led by companies like Renault, Bosch, Siemens, and Rolls Royce. Additionally, he recently led a successful Innovate UK project focusing on cooling channel optimization for 3-D printed high-pressure aluminum die casting tool. Dr Abo-Serie is passionate about teaching thermofluids and Renewable Energy and currently supervises three PhD students. He has contributed to over 70 research outputs in internationally refereed journals and conferences. He currently acts as an External Examiner for an MSc Renewable Energy Course. Currently, he is supervising three PhD students who are nearing the submission stage. His research contributions have been disseminated through more than 70 research outputs, including internationally refereed journal articles and conferences.
Publications
Sample of Peer Reviewed Articles
Zeng, T., Abo-Serie, E., Henry, M., & Jewkes, J. (2023). Cooling channel free surface optimisation for additively manufactured casting tools. The International Journal of Advanced Manufacturing Technology, 1-23.
Divakaran, A. M., Gkanas, E., Shepherd, S., Jewkes, J., & Abo-Serie, E. (2023). A CFD-Based Numerical Evaluation, Assessment and Optimization of Conjugate Heat Transfer for Aerodynamic Cooling of a Wheel-Hub-Motors in Micro-Mobility Vehicles (No. 2023-01-0760). SAE Technical Paper.
Zeng, T., Abo-Serie, E. F., Jewkes, J., Dodd, P., & Jones, R. (2022). Adjoint method for the optimisation of conformal cooling channels of 3-D printed high-pressure tools for aluminium Casting. SAE International Journal of Advances and Current Practices in Mobility, 4(2022-01-0246), 2379-2388.
Abo-Serie, E., Jewkes, J., Zeng, T., & Liang, Y. (2021). Simplified CFD Model for Assessing the Cooling Channel Design in 3D Printed High-Pressure Tools for Aluminium Alloy Casting (No. 2021-01-0270). SAE Technical Paper.
Zeng, T., Jewkes, J., & Abo-Serie, E. (2021). Optimization of Conformal Cooling Channels for Rapid Prototyped Mould Inserts. In Advances in Heat Transfer and Thermal Engineering: Proceedings of 16th UK Heat Transfer Conference (UKHTC2019) (pp. 443-447). Springer Singapore
Muhammad, J., Altun, H., & Abo-Serie, E. (2017). Welding seam profiling techniques based on active vision sensing for intelligent robotic welding. The International Journal of Advanced Manufacturing Technology, 88, 127-145.
Muhammad, J., Altun, H., & Abo-Serie, E. (2018). A robust butt welding seam finding technique for intelligent robotic welding system using active laser vision. The International Journal of Advanced Manufacturing Technology, 94, 13-29.
Abo-Serie, E. E. Oran & O Utcu (2017). Aerodynamics assessment using CFD for a low drag Shell Eco-Marathon car. Journal of Thermal Engineering, 3(6), 1527-1536.
Supervision
Dr Essam Abo-Serie supervised to completion 1 PhD and 4 MSc by research. He is currently supervising 3 PhD students.
Current PhD students:
T. Zeng (supv. M. Henry, E. Abo-Serie, J.W. Jewkes), Conformal cooling of high pressure aluminium die-casting cooling channels, Coventry University
E. Oran (supv. M. Henry E. Abo-Serie, J.W. Jewkes), Design and optimisation of impeller blades for a heart assist pump, Coventry University
A. Divakaran (supv. E. Gkanas, E. Abo-Serie, J.W. Jewkes), Design and optimisation of a cooling system for an e-scooter motor, Coventry University
Teaching
Dr. Abo-Serie's teaching experience encompasses a variety of subjects in the field of thermofluids, with a primary focus on thermodynamics, fluid mechanics, heat transfer, wind turbine aerodynamics, and turbomachines. He takes great pleasure in teaching and finds joy in actively engaging his students during his sessions.
He is currently teaching the first year module EG1102, Thermodynamics and Heat Transfer. He is also contributing in teaching the third year Mechanical Engineering students in the module EG3112 for the heat transfer part.
Interests
The current interest:
Thermal systems optimisation ( achieve high efficiency and temperature uniformity or improve energy rating)
Fluid flow machines (Turbomachines - Wind Turbines )
Injectors design and spray characterisation
Optical and laser techniques in flow and industry measurements
Biomechanics devices design and optimisation
Qualifications
MSc; PhD; Fellow of the Higher Education Academy (FHEA)