Colin Hyde
Researcher and Outreach Officer, East Midlands Oral History Archive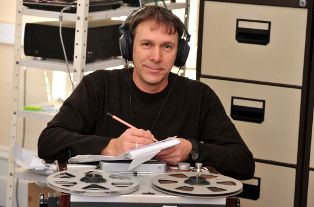 Profile
My involvement with oral history goes back to the original Leicester Oral History Archive, which I joined in 1988. I joined the East Midlands Oral History Archive in 2001. I support students and academics at the University, encourage and help community-based oral history projects across the East Midlands, and work to retrieve, preserve, and use oral history recordings. From April 2022 I am managing EMOHA's Sounds for the Future project, which is funded by the National Lottery Heritage Fund.
Research
I am interested in the preservation of sound recordings and the use of archival recordings. Funded research includes Unlocking Our Sound Heritage (NLHF), a partnership with the British Library that preserved thousands of sound recordings from the Midlands and used oral histories for reminiscence work with people who have dementia. Affective Digital Histories (AHRC) explored the use of archival sound recordings in interpreting the past of the Cultural Quarter in Leicester. I have also written about ghost signs and town trails in Leicester and have an interest in how these contribute to the local urban environment.
Publications
(0) Hyde, C., Hartshorne, S., Town Trails in Leicester, Leicestershire Historian, Autumn 2019.
Hyde, C., Barnes, A.J., Displaying Ghost Signs Online in Advertising and Public Memory
Social, Cultural and Historical Perspectives on Ghost Signs, Edited by Stefan Schutt, Sam Roberts, Leanne White, 2017.
Hyde, C., Voices of the People, Context: Institute of Historic Building Conservation, No 138, March 2015.
Gunn, S., Hyde, C., Post-Industrial Place, Multicultural Space: The Transformation of Leicester, c. 1970-1990, International Journal of Regional and Local History, Vol 8 Issue 2 (November 2013), pp. 94-111.
Bonney, R., Hyde, C., Martin, J., (2011) Legacy of Partition, 1947-2009: Creating New Archives from the memories of Leicestershire People. Midland History, Vol 36, No 2, Autumn 2011, 2-5-24.

.
Press and media
I am happy to be contacted about oral history; the use and preservation of sound recordings; the history of Leicester and Leicestershire; ghost signs; town trails.