Dr
Claire Wood
Associate Professor in Victorian Literature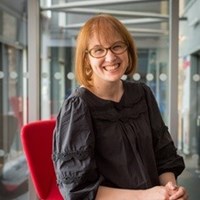 Profile
My research centres on Victorian fiction and death culture with a particular focus upon the contradictions and complexities inherent in the Victorian 'celebration of death'. My first book on this subject Dickens and the Business of Death was published by Cambridge University Press in 2015. This explored Dickens's fascination with the many different ways that you could make money from a corpse in Victorian England from anatomy to authorship. I am currently working on 'Dead Funny' a project that examines death comedy in the work of Dickens and a range of other nineteenth-century writers.
Together with Professor Hugo Bowles (University of Foggia, now University of Buckingham), I lead the AHRC-funded Dickens Code project, which seeks solutions to Dickens's mysterious shorthand writing. The project won 'THE Research Project of the Year: Arts, Humanities, and Social Sciences 2022'. You can find out more about the Dickens Code and take part in decoding challenges by visiting our website.
Before joining the University of Leicester I was a research associate at the University of York and worked at the National Co-ordinating Centre for Public Engagement in Bristol. I am passionate about engagement and have led a number of public engagement initiatives including the AHRC-funded Sensory Stories project that trained postgraduates to communicate complex research ideas using multi-sensory hooks.
Research
My research interests include death, mourning, and commemoration; material culture; ghosts and afterlives; and the body.
Current projects include:
The Dickens Code an award-winning AHRC-funded initiative that seeks solutions to Dickens's mysterious shorthand writing.
'Dead Funny' a research project that explores what is and isn't funny about death dying and disposal in nineteenth-century literature and culture.
A new edition of The Old Curiosity Shop for the Oxford Edition of Charles Dickens.
Co-editing the Edinburgh Companion to Dickens and the Arts for Edinburgh University Press.
I have written pieces on epitaphs, material culture, and Dickens's ghost stories, and published various reviews in journals including the Times Literary Supplement, Literature and History, and Dickens Quarterly. In 2013 I completed a postdoc at the Charles Dickens Museum London which examined the reach and diversity of activities organised to celebrate the Dickens 2012 Bicentenary.
Publications
Books
Dickens and the Business of Death (Cambridge University Press, 2015)
Articles and book chapters
Victoriographies 10.3 (2020) Special Issue: Dickens, Death, and Afterlives, eds. Emily Bell and Claire Wood. Including a co-written introduction and an article on 'Dickens and the Art of Epitaph'.
'From Movable Book to iPad App: Playing A Christmas Carol', in Reading Dickens Differently, eds. Leon Litvack and Nathalie Vanfasse (Wiley Blackwell, 2019)
'Material Culture', in The Oxford Handbook of Charles Dickens, eds. Robert L. Patten, John O. Jordan and Catherine Waters (OUP, 2018)
'Playful Spirits: Charles Dickens and the Ghost Story', in The Routledge Handbook to the Ghost Story, eds. Scott Brewster and Luke Thurston (Routledge, 2017)
'Death', in Oxford Bibliographies Online: Victorian Literature, ed. Juliet John (Oxford University Press, 2017)
Selected Reviews
Jeremy Tambling, Dickens, Nicholas Nickleby, and the Dance of Death, in Dickens Quarterly 37.4 (2020)
Pamela K. Gilbert, Victorian Skin, in The Dickensian 116 (2020)
'An Academic on Tour', reviewing Homes and Haunts: Touring Writers' Shrines and Countries by Alison Booth, in Journal of Victorian Culture (online 2018)
Peter Merchant and Catherine Waters (eds.), Dickens and the Imagined Child, in Dickens Quarterly 33.4 (2016)
Mary Hammond, Charles Dickens's Great Expectations: A Cultural Life, 1860-2012, in Review 19 (2016)
'Delicacy above all', reviewing Forget Me Not: The Rise of the British Literary Annual, 1823–1835 by Katherine D. Harris, in Times Literary Supplement (4 December 2015)
Patrick Parrinder, Andrew Nash and Nicola Wilson (eds.), New Directions in the History of the Novel, in Literature and History 24.1 (2015)
Supervision
I currently supervise doctoral projects in the following areas: Dickens and dream theory; psycho-spatial territories in Dickens's fiction; carnivalesque sentiment in Victorian sensation fiction; life and death in the Victorian asylum; and Austen and Gaskell's fiction.
I welcome new postgraduate students with research interests in any of the following areas: Dickens's life and work; death, mourning, and commemoration; Victorian things; Victorian fiction more generally.
Teaching
2023-24 (Semester 1) BA English
EN3209 The Living and the Dead in Nineteenth-Century Literature and Culture (convenor)
EN3328 Victorians: From Oliver Twist to The Picture of Dorian Gray (convenor)
2023-24 (Semester 2) BA English
EN1010 Reading Poetry (convenor)
EN3010 Dissertation
MA Victorian Studies and MA English Studies
EN7000 Victorian Perspectives
EN7021 Approaches to Victorian Literature and Culture
EN7022 MA Victorian Studies Dissertation
EN7140 Dickens: A Writer in Progress (convenor)
EN7223 Editing and Textual Cultures
Previous teaching includes
EN1020 A Literary Genre: The Novel
EN2036 Charles Dickens (convenor)
EN2131 Gothic (convenor)
EN7001 Research Methods and Writing Skills for Postgraduates
EN7227 MA English Studies Dissertation
Press and media
I am happy to receive press enquiries about Dickens, the Dickens Code, and Victorian death culture.
Activities
I am the Secretary of the Dickens Society, a member of the editorial boards for Dickens Quarterly and Victoriographies, and an Associate Editor of Research for All.
Since 2009 I have served on the British Association for Victorian Studies Executive Committee in a series of roles including postgraduate representative, Web and Publicity Officer, and Public Engagement Officer.
Awards
2022
THE Research Project of the Year: Arts, Humanities and Social Sciences for the Dickens Code. Winner.
Citizens' Awards in the category of 'Research Excellence' for the Dickens Code. Shortlisted.
Conferences
I have organised or co-organised the following conferences and events:
Dickens Day, Senate House, London (2022)
The Dickens Society Symposium (Programme Committee, 2022)
The British Association for Victorian Studies' 'BAVS@Home' series (2021)
Decoding Dickens: Contexts, Approaches, Inspirations Symposium (July 2021)
George Eliot 2019: An International Bicentenary Conference (2019)
The Centre for Victorian Studies Spring Seminar Series (2017-present)
Placing the Author: Literary Tourism in the Long Nineteenth Century Conference (2015)
The Materials of Mourning Symposium (2011)
Media coverage
TV
ARTE – 28 minutes – Le magazine d'actualité (8 February 2022) – a French cultural programme
ITV News at Ten (7 February 2022)
Radio
ABC Radio National – RN Breakfast with Patricia Karvelas (11 February 2022)
ABC Radio Melbourne – 'What the Dickens?' segment on 'Breakfast with Sammy J' (7 February 2022)
Times Radio – 'John Pienaar with Times Radio Drive' (7 February 2022)
talkSPORT/talkRADIO – 'Extra Time with Paul Ross' (30 December 2021)
BBC Radio 3 – Free Thinking 'Being Human 2021' (11 November 2021)
Podcasts
Articles
Francesca Romana Cicolella, 'Decoding Dickens: decifrata la "Tavistock letter"', Unifgmag (15 February 2022) [digital]
Feature: Jenny Gross, 'Decoding Dickens's Secret Notes to Himself, One Symbol at a Time', New York Times (8 February 2022) [digital]
Press release: 'The Dickens Code: Enduring mystery of Dickens shorthand letter solved with crowd-sourced research', University of Leicester News (7 February 2022) [digital]
Feature: Simon Usborne, 'Forget Wordle! Can you crack the Dickens Code? An IT worker from California just did', Guardian (7 February 2022) [print and digital]
Daniel Capurro, 'Unique shorthand created by Charles Dickens finally deciphered, revealing angry dispute with newspaper', The Telegraph (7 February 2022) [print and digital]
Nadeem Badshah, 'Charles Dickens code cracked 150 years on… with the help of Reddit', The Times (7 February 2022) [print and digital]
Jennifer Harby, 'Charles Dickens's code cracked by amateur sleuths', BBC News (6 February 2022) [digital]
Feature: Sara Tor, 'What the Dickens? Academics offer reward for anyone who can crack the great writer's code', The Times (Saturday 20 November 2021) [print and digital]
Valeria Monachese, 'Decoding Dickens: la sfida per decifrare la "Tavistock letter" di Charles Dickens', Unifgmag (29 November 2021) [digital]
Press release: 'The secret behind Scrooge? Research studies Dickens' coded letters', University of Leicester News (16 December 2021) [digital]
'Appeal for help to decode mystery Dickens texts', BBC News (24 December 2021) [digital]
Qualifications
BA Hons English, University of York
MA in Nineteenth-Century Literature and Culture (Distinction), University of York
PHD English, University of York
Postgraduate Certificate in Academic and Professional Practice, University of Leicester
Fellow of the UK Higher Education Academy