Professor
Bibek Gooptu
Professor of Respiratory Biology
Profile
Professor Bibek Gooptu's expertise in the mechanisms of inflammation in lung disease and extensive clinical experience is helping to guide the medical response to COVID-19.
Professor Gooptu has refocused his existing research into inflammatory responses to lung tissue damage to assess how SARS-CoV-2 leads to severe lung disease and mortality in COVID-19. In his clinical role as a consultant in respiratory medicine at Leicester's Glenfield Hospital he is responsible for diagnosing and managing patients with COVID-19. He is also planning the clinical follow-up and research studies to understand the long-term consequences of the virus and the needs of COVID-19 patients.
Research
My research defines and therapeutically targets molecular mechanisms of diseases within one or both of the following categories: (i) those driven by protein misfolding/conformational change; (ii) those causing chronic lung disease (COPD and ILD).
A longstanding interest has been in studying the structure and biology of the serpin (serine protease inhibitor) superfamily of proteins, and the diseases that arise from mutations causing their misfolding and/or conformational change (serpinopathies).
The combination of biochemical studies, genotype:phenotype correlation in humans, and X-ray crystallography led to key early insights. More recently, the Gooptu group has applied NMR, native MS and single particle EM to understand how altered structural dynamics are critical to pathological behaviour in serpins, how serpins self-associate into polymers, and to develop small molecules as therapies. In parallel, proteomic studies have defined in unprecedented detail the subcellular consequences of serpin misfolding and conformational change in cell models of the archetypal serpinopathy, 1-antitrypsin deficiency. An ongoing research collaboration further probes how 1-antitrypsin deficiency results in impaired immunomodulation. These studies are supported by the Wellcome Trust, Alpha-1 Foundation, and MRC and CASE studentships.
I am now using similar multi-platform approaches to understand how interactions of the chimaeric protein galectin-3 at the surface of eptihelial and fibroblast cells mediate fibrosis in multiple organs. The disease focus is particularly on the devastating lung condition idiopathic pulmonary fibrosis (IPF). This work is currently supported by start-up funding from the University of Leicester and makes use of the state-of-the-art basic and clinical research facilities at the LISCB, the Advanced Imaging Facility and the NIHR Leicester Respiratory Biomedical Research Centre.
Research group - Conformational mechanisms of lung and liver disease
I am a Clinician Scientist interested in understanding the relationship between disease relevant protein behaviours and disease, to identify new drug targets. My research focuses on diseases mediated by inflammation and fibrosis in the lung and liver where there is major unmet clinical need. We study the effects of disease mutations and environmental stimuli upon protein folding and conformational behaviour in serpinopathies (such as a1-antitrypsin deficiency), using X-ray crystallography, NMR spectroscopy, cryo-EM, and native MS. Subsequently, we dissect downstream mechanisms in cells using cell biology and proteomic methods, relate these to disease biology, and undertake proof-of-principle studies into novel therapeutic strategies.
To study interstitial lung diseases my group now also focuses upon what we term the gal-3-fibrosome: a cell-surface interactome that stabilises pro-fibrotic and injury response mediators and can cluster them spatiotemporally. We are undertaking cell biology and interactomic studies to define direct interactions and validate them for pathophysiological significance. These will be further defined in terms of the high resolution structures of sub-complexes within the gal-3-fibrosome and the conformational behaviour of effector domains using structural and biophysical studies.
The cross-cutting nature of my research and clinical interests provides an interface between LISCB and the NIHR Leicester Biomedical Research Centre (BRC)/Leicester Institute of Lung Health where I am a PI, and with clinical practice. I work as a Consultant in Respiratory Medicine at Glenfield Hospital, Leicester and within the London Alpha-1 Antitrypsin Deficiency Service at the Royal Free Hospital in London. In these roles I am also involved in facilitating clinical research in Leicester and London.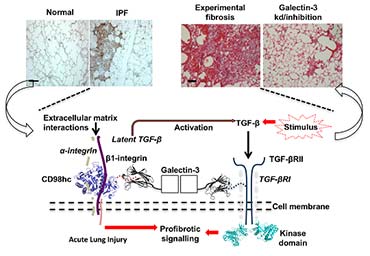 (L-R) Healthy lung compared to a lung with Idiopathic pulmonary fibrosis; lab-induced fibrosis compared to the same cells treated to inhibit galactin-3; schematic of the gal-3-fibrosome on the cell surface cell-surface.
Publications
Management of Idiopathic Pulmonary Fibrosis, DAD Bruce-Hickman, H Garthwaite, M Heightman, B Gooptu, Book Chapter in "Clinical Handbook of Interstitial Lung Diseases" 2017 – in press, Eds. M Thillai, D Moller, K Meyer; Taylor & Francis
Alpha1-antitrypsin: structure and dynamics in health, disease and drug development, A Jagger, JA Irving ST Rashid, DA Lomas, B Gooptu, Book Chapter in "Alpha-1 Antitrypsin Deficiency" 2017 – in press, Eds. N Kalsheker and RA Stockley; Elsevier
A multicentre evaluation of multidisciplinary team meeting agreement on diagnosis in diffuse parenchymal lung disease: a case cohort study, SLF Walsh, AU Wells, SR Desai, V Poletti, S Piciucchi, A Dubini, H Nunes, D Valeyre, P Brillet, M Kambouchner, A Morais, JM Pereira, CP Souto Moura, JC Grutters, DA van den Heuvel, HW van Es, MF van Oosterhout, CA Seldenrijk, E Bendstrup, F Rasmussen, LB Madsen, B Gooptu, S Pomplun, H Taniguchi, J Fukuoka, T Johkoh, AG Nicholson, C Sayer, L Edmunds, J Jacob, MA Kokosi, JL Myers, KR Flaherty, D Hansell , Lancet Respiratory Medicine – 4(7):557-65. doi: 10.1016/S2213-2600(16)30033-9. 2016
Update on alpha-1 antitrypsin deficiency: new therapies, DA Lomas, JR Hurst, B Gooptu, Journal of Hepatology – 65(2):413-24, 2016
Aberrant disulphide bonding contributes to the ER retention of alpha1-antitrypsin deficiency variants, R Ronzoni, R Berardelli, D Medicina, R Sitia, B Gooptu, AM Fra, Human Molecular Genetics, 25(4):642-50, doi: 10.1093/hmg/ddv501, 2016
Deficiency mutations of α1-antitrypsin. Effects on folding, function and polymerisationI Haq, JA Irving, AD Saleh, L Dron, JR Hurst, G Regan-Mochrie, N Motamedi-Shad, B Gooptu§, DA Lomas§ (§ joint senior/corresponding author), Am J Resp Cell Mol Biol, 54:71-80. doi: 10.1165/rcmb.2015-0154OC, PMID: 26091018, 2016
Interactions between N-linked glycosylation and polymerisation of neuroserpin within the endoplasmic reticulum, E Miranda, C Moriconi, A Ordóñez, B Gooptu, JA Irving, V Timpano, L Dalton, SJ Marciniak, DA Lomas, FEBS J, 282(23):4565-79 – doi: 10.1111/febs.13517, PMID: 26367528, 2015
Controversies in COPD: α1-antitrypsin deficiency, D Bruce-Hickman, CM Greene, B Gooptu, European Respiratory Monograph, 2015
Misfolding and polymerisation of 1-antitrypsin – conformational pathology and therapeutic targeting, B Gooptu, DA Lomas, Book Chapter in "Alpha-1 Antitrypsin: Role in Health and Disease" 2015, Eds. A Wanner and RA Sandhaus; Humana Press
Native ion mobility mass spectrometry, crystallographic and NMR spectroscopic characterisation of α1-antitrypsin conformational dynamics relevant to disease and therapy, MP Nyon, T Prentice, J Day, J Kirkpatrick, G Sivalingam, G Levy, I Haq, JA Irving, DA Lomas, J Christodoulou, B Gooptu§, Konstantinos Thalassinos§ (§ joint senior/corresponding author), Protein Science, 2015, 24:1301-1312
Qualifications
BSc (Hons) Biomedical Science, intercalated within Preclinical Medicine, University of Manchester (1992-1995)
MBBChir and PhD, Christ's College and Department of Medicine, University of Cambridge (1995-2000)