About
Who we are
The National Institute for Health Research (NIHR) Research Design Service (RDS) provides free advice on research design to researchers developing proposals for open, national, peer-reviewed funding competitions for applied health or social care research.
Covering the East Midlands, the RDS EM is based in Leicester and Nottingham. We have associated staff in Northampton, Derby and Lincoln.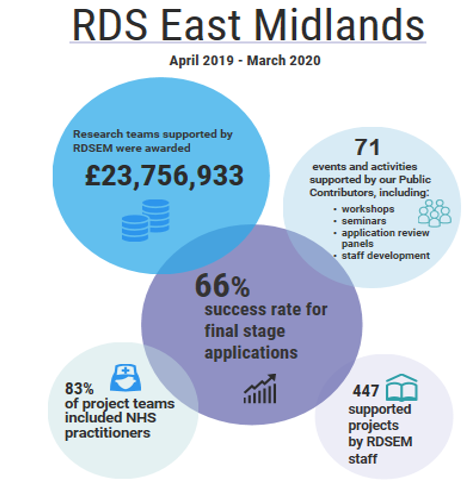 How we can help
We provide support to NHS researchers, and others working in partnership with the NHS, who are developing applied health or social care applications for suitable funding bodies (including the NIHR, the Association of Medical Research Charities, and relevant Research Councils). We work with researchers based in Derbyshire, Leicestershire, Lincolnshire, Northamptonshire, Nottinghamshire and Rutland.
We can advise on all aspects of preparing grant applications, including:
Focusing ideas and refining the research question
Building an appropriate research team
Involving patients and carers in all stages of the research process
Deciding on an overall research design
Choosing and applying research methodologies for quantitative research (e.g. statistical issues), health economics, and qualitative research (e.g. sampling, analytical strategies)
Undertaking systematic reviews
Identifying the resources required for a successful project
Conducting literature searches
Securing funding.
We can also signpost you to other research support and advice services, where appropriate.
Find out more about how we can help by visiting the RDS EM website.
Contact us