University celebrates research with Doctoral College Week
The University of Leicester's postgraduate research students, early career researchers and research staff were celebrated in a range of events for Doctoral College Week, which took place from 18 to 22 March 2019.
The week began with a series of poster competitions hosted by each of the three academic Colleges. Over 79 posters were displayed and participants were evaluated by academic and professional services staff.
Dr Tom Stallard, Associate Professor in Planetary Astronomy in the Department of Physics and Astronomy, judged posters from the College of Science and Engineering. He said: "The quality of the posters and enthusiasm of the students were inspiring. It's heartening to see so much innovative and interesting research."
Dr Marie Nugent, Public Engagement Manager in the College of Life Sciences, said: "I really noticed the quality of the communication skills. All the students I spoke with made an effort to be engaging, use simple language and check that I understood their explanations. It left me confident I could summarise a range of really interesting projects by the end of the day."
Students were equally impressed by the poster competition. Shimon Atunde from the Leicester Cancer Research Centre said: "This was my first ever poster fair, so I was nervous and didn't really know what to expect. Overall though, it was a great experience that allowed me to practise explaining my PhD to a wide range of people from different fields of science. I also enjoyed the relaxed and friendly environment provided by the members of the Doctoral College events team."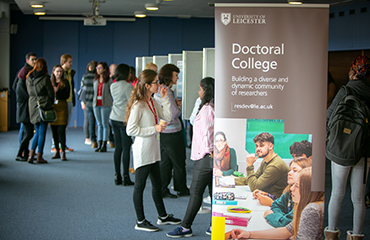 Other highlights of the week included the Doctoral Inaugural Lectures delivered by PhD graduate Harriet Walter and MD graduate Nikesh Dattani from the College of Life Sciences, a keynote talk delivered by Dr Suzie Imber, Associate Professor in Space Physics in the Department of Physics and Astronomy, on 'Adventures in Space', and the Images of Research Roadshow Exhibition at the Attenborough Arts Centre.
The week also included the 'Advancing in Academia' programme, a series of talks from academics for postgraduate researchers to learn more about academic career paths. The programme saw speakers from Sociology, Museum Studies and English discuss living and working in academia.
PhD student Anna Zsubori from Media, Communications and Sociology praised the event, saying: "Hearing academics who are at different stages in their careers share their stories was very encouraging. Yes, it is not easy to build up your career in academia, but it can be done. The most important things that you have to keep in the forefront of your mind are your own passion and doing what you love. 'Advancing in Academia' was fantastic, and I highly recommend it to all postgraduate researchers."
The week concluded with the Doctoral College poster competitions final, which brought the top 15 posters from across the University to be evaluated by guest judges and the Director of the Doctoral College. The results of the College and Doctoral College poster competitions include:
English Language Teaching Unit Overall Winner: Elina Fokiceva (School of Media, Communication and Sociology)
English Language Teaching Unit Runner-up: Kristiani Natalina (School of Education)
College of Life Sciences Overall Winner: Hayley Barton (Department of Neuroscience, Psychology and Behaviour)
College of Social Sciences, Arts and Humanities Overall Winner: Sophie Almond (Department of English)
College of Science and Engineering Overall Winner: Samuel Frampton (Department of Physics and Astronomy)
Students' Union Peer Prize: Shirley Yang (School of Media, Communication and Sociology)
Doctoral College Overall Winner: Aleksandra Bzura (Leicester Cancer Research Centre)
Judge Dr Pip Willcox, Head of Research at the National Archives, said: "It was a pleasure to learn about such an impressive range of research projects. The students presenting their work were excellent communicators, both visually through their posters and verbally in conversation – it was an inspirational morning spent with the thought and policy leaders of tomorrow."
Mark Bamford, Director and Discovery Partnership Leader at GlaxoSmithKline, also judged the posters, and said: "It was a really enjoyable session, with an impressive quality of research, posters and discussion across such a wide range of topics."
The week was organised by the Doctoral College, who support researchers across the University of Leicester and organise public engagement events to celebrate the research undertaken by postgraduate researchers, early career researchers and research staff.
Professor Dave Lambert, Director of the Doctoral College and Professor of Anaesthetic Pharmacology in the Department of Cardiovascular Sciences, said: "This has been a major event for us and a huge success. I am delighted by the level of engagement across the institution and also for the opportunity to personally engage with the 'electorate': our postgraduate researchers, early career researchers and research staff."