University of Leicester academic takes leading role in major new exhibition on Anglo-Saxon England
A renowned University of Leicester expert in Early Medieval History has taken a leading role in a new exhibition, Anglo-Saxon Kingdoms: Art, Word, War which opens at the British Library today (Friday 19 October 2018).
Jo Story, Professor of Early Medieval History at University of Leicester, has been working very closely on the project for three years with the British Library's lead curator, Dr Claire Breay. Professor Story and Dr Breay have edited the sumptuous catalogue, published by British Library Press to coincide with the exhibition's opening.
Anglo-Saxon Kingdoms: Art, Word, War is the largest ever exhibition on the history, literature and culture of Anglo-Saxon kingdoms spanning six centuries – from the eclipse of Roman Britain in the 5th century to the Norman Conquest of 1066.
The exhibition presents a once-in-a-generation opportunity to encounter original evidence from the Anglo-Saxon kingdoms, a time when the English language was used and written for the first time and the foundations of the kingdom of England were laid down. It brings together the British Library's outstanding collections alongside exceptional loans.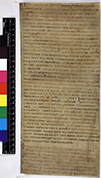 Through archaeological objects, unique charters and manuscripts, some of which are returning to England for the first time, the exhibition features famous figures such as King Alfred the Great and King Cnut, and it reveals a highly developed culture, deeply connected with its European neighbours, from Ireland in the west to the eastern Mediterranean.
Professor Story said: "It has been a privilege and a pleasure to work with Claire and the British Library team on this landmark event. I have been able to work with some of the most important literary and historical treasures surviving from the earliest centuries of English history."
"Without doubt the highlight for me, as a scholar of Bede's England, is the return of the massive bible, Codex Amiatinus, on loan to the exhibition from the Biblioteca Medicea Laurenziana in Florence. It is the earliest surviving Latin Bible and was made at Bede's monastery in the early eighth century. Bede's abbot took it to Rome in AD 716, and it has never been back to Britain, until now — 1302 years after it left Northumbria. That's quite something."
From stunning illuminated manuscripts to the earliest surviving will of an English woman, Anglo-Saxon Kingdoms: Art, Word, War highlights the key role manuscripts played in the transmission of ideas, religion, literature and artistic influences throughout England and across political and geographical boundaries, as well as the sophisticated skill and craftsmanship of the artwork produced at this time.
Becky Lawton, one of Professor Story's PhD students has been lucky enough to work for three years at the British Library, helping with the preparation of the exhibition. She has been funded by one of the British Library's Arts & Humanities Research Council (AHRC)'s Collaborative Doctoral Partnerships, and is co-supervised by Dr Breay. She now holds an internship there to help behind the scenes while the exhibition is on.
Becky said: "It has been an amazing opportunity. I've been embedded with the Medieval Manuscripts team from day one and have learned so much about the work involved in preparing a major exhibition."
"I first discovered Anglo-Saxon history as an undergraduate at the University of Leicester from 2011–2014. The British Library AHRC Collaborative Doctoral Award has opened so many new doors that I never dreamed of before I started. Working on the Anglo-Saxon Kingdoms exhibition with Claire and Jo has been a wonderful learning experience and an incredible start to my career."
Dr Claire Breay, Lead Curator of Anglo-Saxon Kingdoms: Art, Word, War at the British Library, added: "This is a once-in-a-generation opportunity to see an outstanding array of Anglo-Saxon manuscripts and objects produced over six centuries, which demonstrate the sophistication and interconnected European world of Anglo-Saxon art, literature and history.
The exhibition Anglo-Saxon Kingdoms: Art, World, War runs at the British Library from Friday 19 October 2018 - Tuesday 19 February 2019.
An international conference and early career symposium on 'Manuscripts in Anglo-Saxon England' is being held at the British Library from 13-15 December 2018.