Big Band taking to the stage for once-in-a-lifetime performance
Our talented Big Band performed at the Royal Albert Hall.
The University of Leicester's very own Big Band beat off strong competition from across the county to earn the once-in-a-lifetime opportunity to perform at the Royal Albert Hall on Wednesday 7 November 2018.
Earlier this year, we announced that our University's talented Big Band were in the running to be selected to perform at the Royal Albert Hall as part of the Music for Youth Proms off the back of a series of impressive musical performances at a number of festivals, including at the National Festival of Music for Youth and the Ghent Jazz Festival in Belgium, where they shared a line up with big names such as Tom Jones.
The performance culminate in the University of Leicester Big Band performing the finale piece, leading everyone else in closing the three day event.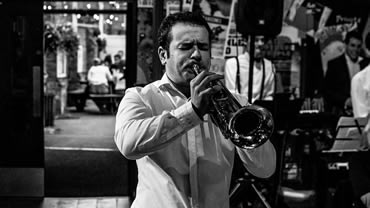 Martha O'Sullivan, University of Leicester Big Band President, described her excitement on the Band being selected: "I am so thrilled that we have the opportunity to play at The Royal Albert Hall. When I suggested applying at the beginning of last year I never thought that we'd actually make it there! Everyone works so hard week in week out, I have a fantastic committee with me this year and the group really is one big family.
"Someone recently asked me what has been my favourite Big Band moment so far, my answer was easy: it's got to be the first rehearsal of my first year. I walked in, sat down and knew immediately that this band was what I was going to love most about uni.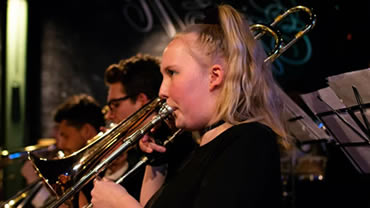 "Now, three years later, I'm heading into my second year as President, I've played some incredible gigs, made amazing memories, but most importantly I've made friends for life that I would never have had the honour of meeting if I hadn't joined the group back then. The fact that we manage the things we do, yet none of us study music is amazing."
The talented musicians also regularly gig around Leicester, playing at corporate events and balls and well known music venues.
Martha is also a frequent guest on BBC Radio Leicester and spoke to them again in advance of the Royal Albert Hall performance, highlighting the great musical talent that exists in the city and University.