Skin to skin and 'Snuby' clinical trials
Background
Dr Helen McIntrye has been a midwife for over 30 years during which she has been trying to maximise maternal-baby attachment and improve maternal and infant outcomes. One method is through breastfeeding; however, the United Kingdom (UK) has the lowest breastfeeding initiation and continuation rates in Europe (Health and Social Care Information Centre 2012).
In 1989, the World Health Organisation (WHO) and UNICEF have recommended mother-infant skin-to-skin contact for successful breastfeeding and bonding. It forms part of Kangaroo Mother Care (KMC), which includes 24/7 skin to skin contact, exclusive breastfeeding and early discharge home with requisite community follow-up (WHO 2003). KMC was developed for low birth weight and preterm infants in low-income countries (WHO 2003); however high income countries have demonstrated its benefits over separation in incubators (Flacking et al 2012). In a 20 year follow up of preterm babies with KMC and those without, Charpak (2016) identified improved social skills, resilience and a larger volume of the left caudate nucleus in the KMC group. Despite the well-documented benefits of KMC and skin-to-skin care (Vesel et al 2015), its universal implementation is very low (Valsangkar 2015).
Conde-Agudelo and Díaz-Rossello's (2014) review demonstrated that intermittent and continuous mother-infant skin-to-skin contact increases breastfeeding rates, and reduces rates of sepsis, hypothermia, and neonatal mortality. These would benefit term babies (Royal College of Midwives 2012, UNICEF 2013) who often experience hypothermia, low blood sugars, jaundice, infection and poor weight gain therefore delaying discharge home, increased GP consultation or readmission to the hospital (RCPCH report; NHS 2017).
The Snuby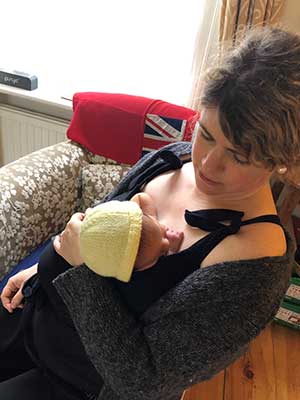 The Snuby™ is an undergarment designed to facilitate mother-infant skin-to-skin contact safely. The pilot study on 11 women fully observed while wearing the Snuby identified greater mother infant attachment behaviours, recognition of feeding cues, breastfeeding and good thermoregulation (Bailey, McIntyre and Harvey 2017). Recognition by UNICEF (2013) of the importance of relationship building and bonding for all infant feeding choices and child health were reinforced in the Baby Friendly Initiative Standards (2016a) and WHO (2018). BASIS (2018) in their resources also positively endorse skin-to-skin contact and slings.
Skin-to-skin is known to positively affect rates of breastfeeding initiation and continuation therefore its more universal ease of facilitation would be beneficial (Robiquet et al 2016, Mahmood et al 2011). The UK has a 1% exclusive breastfeeding rate at six months (Health and Social Care Information Centre 2012) despite the WHO recommendation that all babies be breastfed exclusively to six months and continue to three years (WHO 2018). This needs addressing. Any improvement in the breastfeeding rates would positively affect the health of the nation (Renfrew et al 2014).
Good thermoregulation and breastfeeding can be protective of Sudden Infant Death Syndrome (SIDS) (Goldwater 2011). A small rise in recent national rates is contrary to the trend (Lullaby Trust 2015, ONS 2015). Interestingly skin-to-skin is not part of the rhetoric against SIDS despite the evidence.
However, despite the assertion that skin-to-skin can only be good for mother and baby, professionals are not able to recommend any particular piece of equipment to facilitate this more easily.
In 2014, Dr McIntyre started to work at Birmingham City University with its technical fashion department. Third year students were given the brief to create a garment for their final year dissertation that could be trialled for skin-to-skin contact in the future. Two students took up the challenge and one design was chosen, because of its increased versatility. Jade Ming (student) and Sheila Griffiths (senior lecturer) have continued to be involved in on going developments. This concept was one of ten shortlisted out of approximately seventy applications for the West Midlands Innovations Awards.
Subsequently, Dr McIntyre gained a GRTA student, Roisin Bailey, who undertook a PhD trialling the feasibility of the product and subsequent RCT. The feasibility study was successful and demonstrated behaviour changes in mothers when using the Snuby (Bailey, McIntyre and Harvey 2017). The RCT has yet to publish its data but the results are re-assuring. It has explored temperature regulation, breastfeeding behaviour, use of the Snuby for skin to skin or not and qualitative acceptability of its use.
Requests are regularly made for a late and early preterm top plus twin and bariatric versions. The early preterm top has IRAS approval and is about to commence the feasibility trial.
The present trials have been to ensure safety and enhance physiological responses of the mother and baby.
Future assessment will be to consider hard to reach women such as those with postnatal depression, teenagers, ethnic minorities and as a first step in a pathway for developing pathologies or readmissions to hospital with jaundice, hypothermia, hypoglycaemia and weight loss. Subsequent development of the top will be required for twins and bariatric women and babies.