Dan Rogers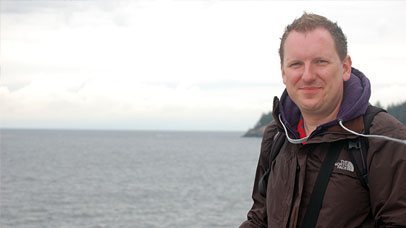 "Despite it being a long time ago I can remember my first time visiting Leicester, it was raining. Despite this somewhat damp first impression I also distinctly remember how friendly and welcoming all the students and staff that I met were and how they all spoke very highly of the course and opportunities that studying medicine in Leicester offered. I only ever intended staying for the duration of my studies before moving back north, but some 20 odd years later I am still here, and still think it is a great place to study, work and live."
"I'm now a Consultant Gastroenterologist in University Hospitals of Leicester and so work in one of the biggest Gastroenterology units in the country, and the training I received in Leicester as both an Undergraduate and Postgraduate have given me all the skills and knowledge that I needed to advance my career. I'm also extremely proud to be Undergraduate lead for Gastroenterology and an Honorary Senior Lecturer at my University; there is something really quite special about continuing to work in and train new generations of doctors in the place that gave me those same opportunities all those years ago."
"In addition to the clinical life here, Leicester is a great place to live and is really easy to get to from pretty much the whole country. You have all the advantages of living in a city but have the countryside on the doorstep and in all directions the city is surrounded by wonderful countryside that can be reached with ease."
"I'm really pleased that I applied to Leicester, and that they wanted me, and thoroughly recommend the university and hospitals that we have here."