What is a Systematic Review?
A systematic review is a specialised literature review that tries to identify, appraise, select and synthesise all high-quality research evidence relevant to a research question.
How is it different to a literature review?
| | |
| --- | --- |
| Literature Review | Systematic Review |
| Key articles on a topic or overview of a research area. | Type of research methodology. |
| Influenced by needs of the researcher. | Focused on a specific research question. |
| No protocol for the items to include in the review. | Protocol is provided stating inclusion & exclusion criteria. |
| Search using keywords or key concepts to find enough/appropriate material. | Comprehensive search conducted in a systematic way. |
| | Explicit and replicable search strategy |
The process of conducting a systematic review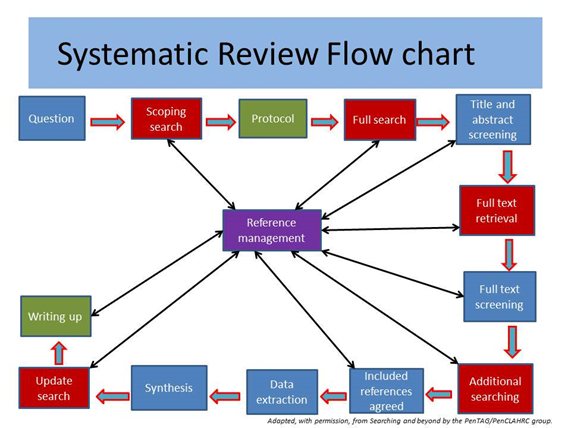 The key steps to follow:
Formulate review question.
Check your review is viable (trial/scoping searches).
Write protocol including defined inclusion/exclusion criteria.
Develop a systematic search strategy, that can be reproduced across databases.
Title/Abstract screening based on your inclusion criteria.
Full text screening based on your inclusion and quality assessment criteria.
Additional searching (e.g. citation searching, references, grey literature).
The review team agree which studies to include in final review.
Extract data or analyse studies.
Write up and publish.
Traditionally, systematic reviews have been done in medicine and health, as a meta-synthesis using quantitative data. However, systematic reviews are now done in a variety of fields and the analysis might also be qualitative or mixed methods.
Find out more