Personalised treatment in B cell malignancies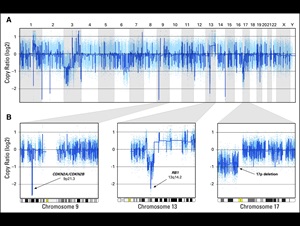 Research theme leads: Prof Martin Dyer; Dr Harriet Walter, Dr Matt Ahearne
Thanks to the generous philanthropic support of The Scott-Waudby Charitable Trust, the University of Leicester has been able to establish the Haematological Research Theme which supports both translational and clinical research in haemato-oncology.
Our primary objectives are:
Assessment of novel therapies in vitro and in vivo
Investigate the mechanisms of action of targeted therapies
Study the emergence of resistance using primary clinical materials
Development of new diagnostic and prognostic tools for translation to the clinic.
We have significant expertise in designing and leading on global first-in-man and early phase clinical trials through the Hope Clinical Trials Facility. This provides state-of-the-art facilities for intensive in-patient clinical studies. We have been the lead recruiter for clinical trials in relapsed/chemotherapy refractory B cell malignancies, with access to these trials for some patients resulting in life changing outcomes with minimal toxicity (Walter 2016, Walter 2017, Hutchings 2019).
Using our expertise in bioinformatics analysis, we are also undertaking translational (bench to bedside) and reverse translational (bedside to bench) studies to further improve and refine prospective treatment strategies (Smith 2020, Walter 2019).
Haematological Malignancies tissue bank
Critical to our ongoing strategy is access to our unique Haematological Malignancies tissue bank (EDGE 34146) and our drive to develop new and unique pre-clinical models such as patient-derived xenografts and new cell lines.
Another crucial aspect is our relationship and collaborations with the pharmaceutical industry and biotechnology companies. Over the past 10 years we have worked with multiple pharmaceutical companies (SME or global enterprises) to provide consultancy and contract research services in addition to collaborative research projects.
Teaching
We are involved in undergraduate and postgraduate teaching, hosting undergraduate (BSc Biological Sciences), intercalated, MSc (CCMB or CMPT), PhD and voluntary placement students. In 2020, Dr Sandrine Jayne, Institute Manager, was nominated for Best Supervisor at the Student's Union Superstar Award.

Twitter: @ScottWaudbyHaemResLeics
You can support our research by donating to our JustGiving page


Research theme affiliates:
PhD students:
Abdullah Al-Qahtani
Dan Bowden
Buwei He
Gethin Thomas
Chris Trethewey