Vacancy advertising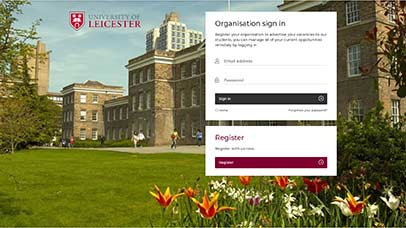 MyCareers is the University of Leicester's job vacancy portal and is accessible to all 25,000 undergraduate and postgraduate students, as well as graduates. It is free to advertise on the portal and is a great start to your recruitment campaign.
How to register
New employers must first register online (you need only register once).
Advertise a role
Login and MyCareers will guide you through the quick uploading process.
Every role is reviewed and posted by our vacancy team. We will contact you to confirm the role is live.
Please note - by submitting a role you are confirming you have read and agree to our advertising policy (see below).
You can use MyCareers to advertise a range of opportunities including:
Graduate roles: Immediate start vacancies for recent graduates and vacancies aimed at final year students who will graduate in the summer.
Year in Industry: Aimed at penultimate year students who are looking for a 9-12 month work placement (summer to summer) during the third year of their course. Find out more by downloading our Employers Guide (PDF, 502kb).
Industrial placement: Aimed at postgraduate students in technical subjects who are looking for a 3-12 month work placement after the taught section of their Master's. Usual start dates can be in summer or January depending on the cohort.
Internships: Aimed at students seeking professional level work during the Christmas, Easter and summer vacation periods.
We also advertise other opportunities including volunteering, work-shadowing and company insight schemes.
Our advertising policy
The Career Development Service will only advertise unpaid opportunities that are exempt from the National Minimum Wage legislation (e.g. those that are in registered charities, not-for-profit organisations, voluntary organisations, community groups and social enterprises). Please refer to our Advertising Policy (PDF, 400kb) for more details.
If you would like to talk to us about any of the above types of opportunities, please get in touch with the Graduate Outcomes Team – employer.services@le.ac.uk