Placements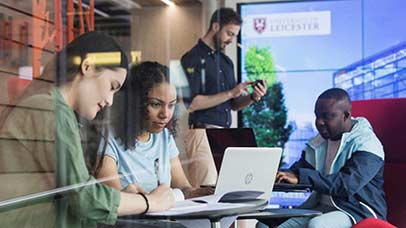 Employing a University of Leicester student on a placement can provide your organisation with extra resource, fresh ideas and enthusiasm. Our students are highly employable and can deliver tangible benefits from day one.
We have two streams of placements at Leicester: a Year in Industry for Undergraduates, and an Industrial Placement for Postgraduates.
Year in Industry – for undergraduates
A year in industry is a 9-12 month paid position undertaken between the second and third year of a degree, normally starting in July or August. The opportunity provides students with real world experience related to their degree.
Our Year in Industry students come from a range of subjects including:
All courses in the College of Science and Engineering;
All courses in the School of Business;
Biosciences (including Natural Sciences);
Psychology.
Industrial Placement – for postgraduate students
An Industrial Placement is aimed at postgraduate students in technical subjects who are looking for a 3, 6, 9 or 12 month work placement after the taught section of their Masters. Placement start dates vary between February and July depending on the cohort. Our postgraduates come from backgrounds in Engineering, Computer Science, Mathematics, and Geography.
Why take on a University of Leicester student on placement?
Add value to your organisation by having a student take on challenging responsibilities and fixed term projects.
Increase your diversity. Our students come from all over the world, providing an international outlook, language skills, and knowledge of overseas markets.
Develop a talent pipeline. View a year in industry as a year-long interview and consider recruiting the students once they complete their degree, equipped with a year's experience working for you.
Bring good value for money. Placement students don't expect graduate level salaries, although they do need to receive a realistic offer. An average placement salary is usually £16,000-21,000 a year, and for that you get a motivated student used to thinking at degree level.
Bring fresh ideas and enthusiasm. Our placement students are highly committed and enthusiastic, and keen to develop themselves. From revamping marketing and sales strategies to developing innovative technology, their energy has helped hundreds of employers to solve their business problems in new and creative ways.
What we ask of you
Working in your organisation can be a hugely rewarding and enriching experience for a student. It offers them a chance to gain professional skills, get hands-on experience, and opens up new career possibilities.
With that in mind, during their time with you, we ask that our placement students can have:
Access to a mentor and regular discussions with their line manager (or a named contact).
Opportunities to undertake specific projects.
Opportunities for training and development to boost their understanding in required areas.
Time for feedback and reflection to consolidate their workplace learning.
What next?
If you are interested in our students, or just want to discuss placements in general, please contact us at employer.services@leicester.ac.uk. We will be delighted to talk to you about our students and how we can support your recruitment needs.