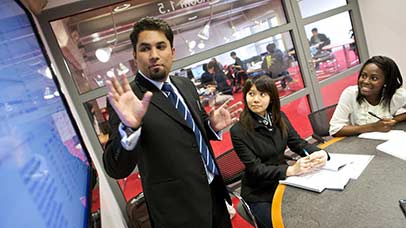 If you are an SME based in Leicester or Leicestershire, you may be eligible to access funding for a student or graduate intern. Our internships are designed to bring new perspectives and creative solutions to long and short term business challenges. We can help you to recruit a student or graduate on a short-term basis in the form of internship grants.
Benefits of recruiting an intern from the University of Leicester
Students are highly employable, motivated and ambitious and can deliver tangible results to your business quickly
Add value to your organisation by taking on challenging responsibilities and fixed-term projects.
Support your team in a peak period.
Bring fresh perspectives and new ideas.
Add to your talent pipeline -an internship can serve as an extended interview and reduces the overall risk of recruitment.
Support for your business
The University will provide you with a dedicated member of staff to support you through the entire internship process.
Support and advice on creating the internship opportunity.
Advertisement and promotion of the opportunity.
Tracking and monitoring of applications.
Organising the payment of the funding where applicable.
Micro-Internship Programme
Our micro-internship programme connects you with your own University of Leicester intern(s), who will volunteer up to 40 hours of their time to a designated project over a four week period. You receive a project deliverable that adds value to your business and benefit from the enthusiasm, creativity, fresh ideas and transferable skills of our students. The programme runs three times a year (autumn, spring and summer) and is open to all undergraduate final year students, to support and prepare them for entering the workplace.
For more information, please download our brochure (PDF, 862kb), or contact us at employer.services@leicester.ac.uk.
Citizens of Change Internships
We are Citizens of Change.
The University of Leicester is Top 30 university. We're diverse in our makeup but united in our ambition to pursue knowledge that has the power to transform.
The University of Leicester has launched a fully-funded summer internship programme, designed to boost graduate employment in the regional economy. The programme aims to provide as many students as possible with a significant work experience opportunity, ensuring that students who typically do not access internships have the chance to do so.
This scheme, Citizens of Change Internships, will take place between 19 June – 28 July 2023 and are targeted at middle-year undergraduate students. Students will be given the opportunity to undertake an internship project in a Leicester or regional based organisation for a total of 210 hours over the six-week period.
Businesses involved in the programme can see benefits such as:
No salary cost to the business as the student's salary is fully covered throughout the internship programme.
Allows you to access student talent from the University of Leicester across a wide range of degree disciplines
Add real value to your organisation with an intern working on a project of your choice
If you are an organisation interested in participating, please complete the expression of interest form. Deadlines will be on a rolling basis, so please do submit your interest at your earliest opportunity.
Employer eligibility criteria
Organisations must satisfy the following criteria in order to be eligible for the Citizens of Change Scheme (CoC):
Registered and operating in the Leicester/Leicestershire/East Midlands area
Able to provide an internship project that positively contributes community impact or engagement
Agree to provide a video testimonial to the University of Leicester following successful completion of the internship
Learn more about the Citizens of Change Internship
How to get in touch
If you would like to learn more about the full range of internship funding options available, please contact employer.services@leicester.ac.uk to discuss how the University can support your recruitment needs.
Ten suggestions for SMEs looking to recruit students and graduates.