Presentations and workshops
Presentations and workshops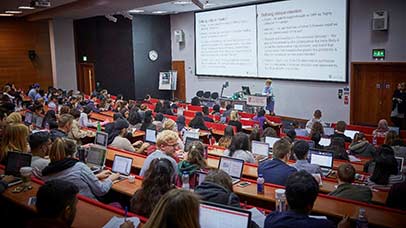 Delivering a presentation or workshop is a great way to meet motivated students who are keen to develop their skills to enhance their applications and prepare for life after university.
We offer employers the opportunity to deliver a presentation or workshop on the following topics
Making effective applications
Building commercial awareness, networking and preparing for the workplace
Insight into Assessment Centres & Interviews
Psychometrics / Ability Testing
Sharing your disability with employer
We are always keen to hear from employers and if you would like to deliver a session on a topic that is not listed above then please get in touch to discuss further.
Dates and times
Sessions take place throughout the year both on-campus and virtually and can be scheduled to meet your recruitment needs.
For further information or to book, please contact employer.services@leicester.ac.uk.