Festival of Careers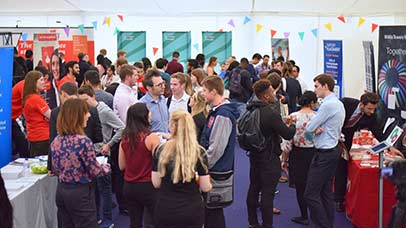 Festival of Careers – Spring (27 February - 3 March 2023)
The Festival of Careers is more than just a careers fair - it's an entire week filled with workshops, presentations and information sessions dedicated to helping students find out more about what's available in the world of work, entrepreneurship and study.
Attracting a high number of students each year, it is a great way to raise awareness of your organisation and the opportunities you have available, and to connect and engage in meaningful conversations with our students.
Recruitment Fair – (28 February and 2 March 2023)
The spring recruitment fairs are aimed at organisations promoting graduate roles, internships and placements beginning in 2023.
Each day is themed and you can book to attend one or more of the events:
Contact employer.services@leicester.ac.uk for support on how to complete a booking request to register your interest.
Future dates
Festival of Careers – Summer 2023 (5 - 9 June)
More information will be available nearer the date. Register your interest at employer.services@leicester.ac.uk.