Careers fairs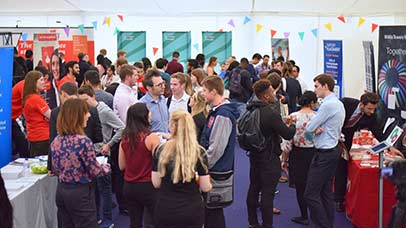 Careers fairs present a great opportunity for employers to increase the awareness of their organisation and promote the opportunities on offer to students. Following hugely positive feedback from exhibitors in recent years, we are committed to making sure our careers fairs continue to raise the bar even further.
Autumn Festival of Careers
Monday 12 October – Friday 16 October 2020
This year, due to COVID-19, we have made the decision to go virtual - and it's free to attend!
Schedule of employer presentations and workshops – to boost interest and engagement with your brand and to support students through the recruitment and selection process
Sector-themed panel events – to inspire the next generation of professionals and provide top-tips for entry into the sector.
Contact employer.services@le.ac.uk to be notified when booking is open.
Spring Festival of Careers
Monday 22 February or Wednesday 24 February 2021
More information will be available nearer the date. Register your interest at employer.services@le.ac.uk