Festival of Careers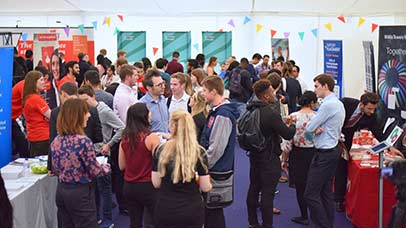 The Festival of Careers is more than just a careers fair - it's an entire week filled with virtual workshops, presentations and information sessions dedicated to helping students find out more about what's available in the world of work, entrepreneurship and study.
Attracting a high number of students each year, it is a great way to raise awareness of your organisation and the opportunities you have available, and to connect and engage in meaningful conversations with our students.
Festival of Careers – Autumn 2021 (25-29 October)
Building on the success of our 2020 fairs, this Autumn, we've made the decision to go virtual - and it's free to attend.
We're keen to work with to schedule presentations, workshops and activities to boost interest and engagement with your brand and to support students through the recruitment and selection process
Contact employer.services@leicester.ac.uk to be notified when booking is open.
Future dates
Festival of Careers – Spring 2022 (21-25 February 2022)
Festival of Careers – Summer 2022 (6-10 June 2022)
More information will be available nearer the date. Register your interest at employer.services@leicester.ac.uk.