Employer and Alumni in Residence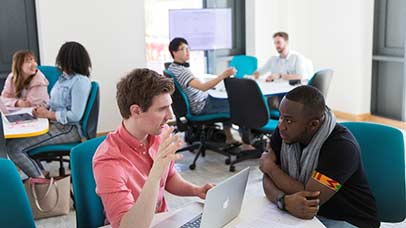 Employer in Residence
Employer in Residence sessions are a great way to meet final year students who are interested in working for your company. They offer you the opportunity raise your profile, share expert advice and answer questions about your organisation and recruitment processes. Currently running virtually, sessions consist of a half day (approx. 3 hours, maximum of 12 students) of 15-minute one-to-one appointments with students.
The Employer in Residence sessions aim to:
Provide students with expert advice from an employer and organisation they are seeking a graduate opportunity from.

Allows you to meet with final year students on a one-to-one basis

Offer practical support such as advice on preparing for interviews and assessment centres

Provide individual feedback to students on CVs, applications, etc.
Dates available throughout the term and student bookings are all coordinated by Careers and Employability. Sessions can be scheduled to begin at a time to suit you, with breaks booked in as requested.
The In-Residence sessions are mainly targeted at final year undergraduate students and participating employers must have graduate vacancies available for students to apply for however other student cohorts will be considered depending on the recruiting needs of your organisation.
Please get in touch with us at employer.services@leicester.ac.uk to discuss how to get involved.
Alumni in Residence
The Alumni in Residence programme brings talented alumni volunteers and final year University of Leicester students together so that alumni can share their career experiences and advice. Through a combination of one-to-one appointments and small interactive networking sessions, the programme is designed to inspire students at the start of their career journeys, support their career development, build their commercial awareness and increase their confidence. If you're a professional who is interested in supporting and mentoring students by sharing your industry knowledge, insights and experience in an informal environment, we would love to hear from you.
For more information, and to book, please contact employer.services@leicester.ac.uk.