Leicestershire Innovation Festival 2022
'Innovative Leicestershire' helping the region's entrepreneurs and innovators to champion, celebrate and change lives
"It takes a village to raise a child… and a strong entrepreneurial ecosystem to generate innovative start-ups, businesses and supportive business communities. University of Leicester's Innovation Hub is proud and proactive partner in driving innovation, talent, creativity and connections in our region, amongst partners, businesses, entrepreneurs, academics, mentors. Supporting SMEs and the business community is crucial to the recovery effort in the economy – during the Coronavirus pandemic it is more important than ever to ensure that businesses are well equipped to meet the current challenges we face now and ongoing. Our focus is to help improve access to R&D, Innovation support, entrepreneurial education through incubation, access to facilities and funding for specialist technical and academic expertise and much more…"
Rajinder Bhuhi, Leicester Innovation Hub Manager
---
During the University's Centenary we are celebrating 100 years of change where our researchers have changed the way we view our world and pushed back the boundaries of human knowledge; innovating and transforming the way we work and live.
We are excited to be celebrating our 5th year of opening during this year where our work is supporting the University of Leicester's strategy to launch into its second Century by continuing to take action to boost productivity, employment, wellbeing, nurturing the next generation and inspiring game-changing ventures.
Now in its fifth year, the annual Leicestershire Innovation Festival 2022 was the largest celebration of innovations large and small in the county to date with over 25 events taking place. The University of Leicester has been an active partner supporting both getting it started and its ongoing success for our region's innovating communities to thrive and grow.
Over the two-week programme, hundreds of businesses from across the region joined a wide variety of events, workshops and showcases covering all areas of innovation; from entrepreneurship and funding via manufacturing and prototyping through to carbon reduction, sustainability and much more.
As a leading partner in the festival, the University of Leicester hosted and delivered multiple sessions throughout the programme beginning with the showcase launch event at Space Park Leicester; 'How Local Businesses have used Innovation Successfully Leading Towards Net Zero' and closing the festival with an exciting 'One Stop Shop: Innovation Funding and Opportunities' Innovation Friday that the University of Leicester Innovation Hub Team ran at the newly refurbished School of Business Brookfield Campus.
Championing 'Innovative Leicestershire'
Leicestershire Innovation Festival 2022 launched at Space Park Leicester on 14th February where a packed audience heard from leaders from public, private and education sectors as they outlined the opportunities for positive change with a focus on sustainability and achieving Net Zero.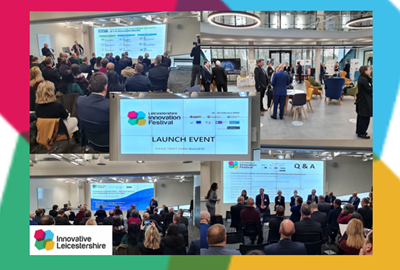 Morningside Pharmaceuticals founder and Chair of the Leicester and Leicestershire Enterprise Partnership (LLEP) Innovation Board, Dr Nik Kotecha, led the launch event which featured presentations from Julian Bowrey (Innovate UK), Dennis Hayter (Intelligent Energy), Robert Evans (Cenex) and Peter Ware (Midlands Engine Green Growth Board) and provided attendees with information on regional and national innovation priorities and showcased the possibilities enabled by successful innovation.
The event concluded with an open Q&A session led by Charlotte Horobin, the Membership Director of Make UK and Operating Board member of the Midlands Engine, who facilitated audience questions covering a broad range of topics such as cyber, skills and effective business communications to the nine-strong panel.
Joining the session presenters on the panel to provide guidance, insight and expertise were Will Wells (Commercial Director at the University of Leicester), Sue Tilley (Head of Business and Innovation at the LLEP), Helen Donnelan (Pro Vice Chancellor Regional Business and Innovation at DMU) and Rachel York (Manager of the Business Gateway Growth Hub).
Celebrating our innovators
The LeicestershireLive Innovation Awards ceremony is one of the highlights of the Leicestershire Innovation Festival that took place on Thursday 24th February at King Power Stadium.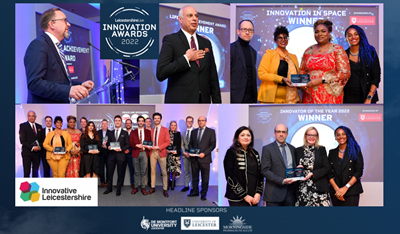 University of Leicester is proud to be a headline sponsor alongside Morningside Pharmaceuticals and De Montfort University, as well as a category sponsor. The Innovation Awards celebrate the very best technology, services, digital advances and creative thinking that our region has to offer. At the 2022 ceremony, the University of Leicester was delighted that among our commercial partners to be nominated for awards, Lenke Space and Water Solutions were successful in the category of 'Innovation in Space'.
University of Leicester graduate start-up business LENKE Space and Water Solutions were borne from a Leicester Innovation Hub hackathon event. It was here that founders Dr Nkeiruka Onyia and Lensa Etefa Jotte realised that data from ESA Copernicus satellites could be used to monitor water resources and provide decision-making tools to local stakeholders, farmers and NGOs. The duo then participated in the Innovation Hub's Launchpad programme and were successful in obtaining Santander Entrepreneurship seed funds to commercialise their unique innovations.
LENKE Space and Water Solutions are based at Space Park Leicester and collaborating with the ESA BIC programme.
Furthermore, we were delighted that Professor Kamlesh Khunti of the University of Leicester Diabetes Research Centre was recognised with the Lifetime Achievement Award in recognition of his dedication to helping people with diabetes and driving research into the impact of Covid-19 where he was able to implement his findings as a member of the SAGE advisory group.
Our commitment to supporting innovation continues in our support for the Innovator of Year Award and our work with many of the finalists, in supporting them through our programmes at the Leicester Innovation Hub and Space Park Leicester. We were delighted to announce this special award on the night to medical technology company Nemaura celebrating innovation in our region.
Change Lives through innovation
This year's Innovation Festival concluded with the University of Leicester's Innovation Hub's Innovation Friday 'One Stop Shop: Innovation Funding and Opportunities' at our fantastic new School of Business Brookfield campus. Over 70 local businesses were in attendance to meet, network and begin collaborations with each other, utilising our region's strong ecosystem of innovation support providers. This included representatives from Innovate UK and Innovate UK EDGE, the British Business Bank, the Federation of Small Businesses, East Midlands Chamber of Commerce, ESA Business Incubation Centre at Leicester, Leicester Start-ups, Knowledge Transfer Network, Help to Grow Programme, Business Gateway Growth Hub, NBV, MSDUK, Barclays and the Sir Thomas White Loans Charity.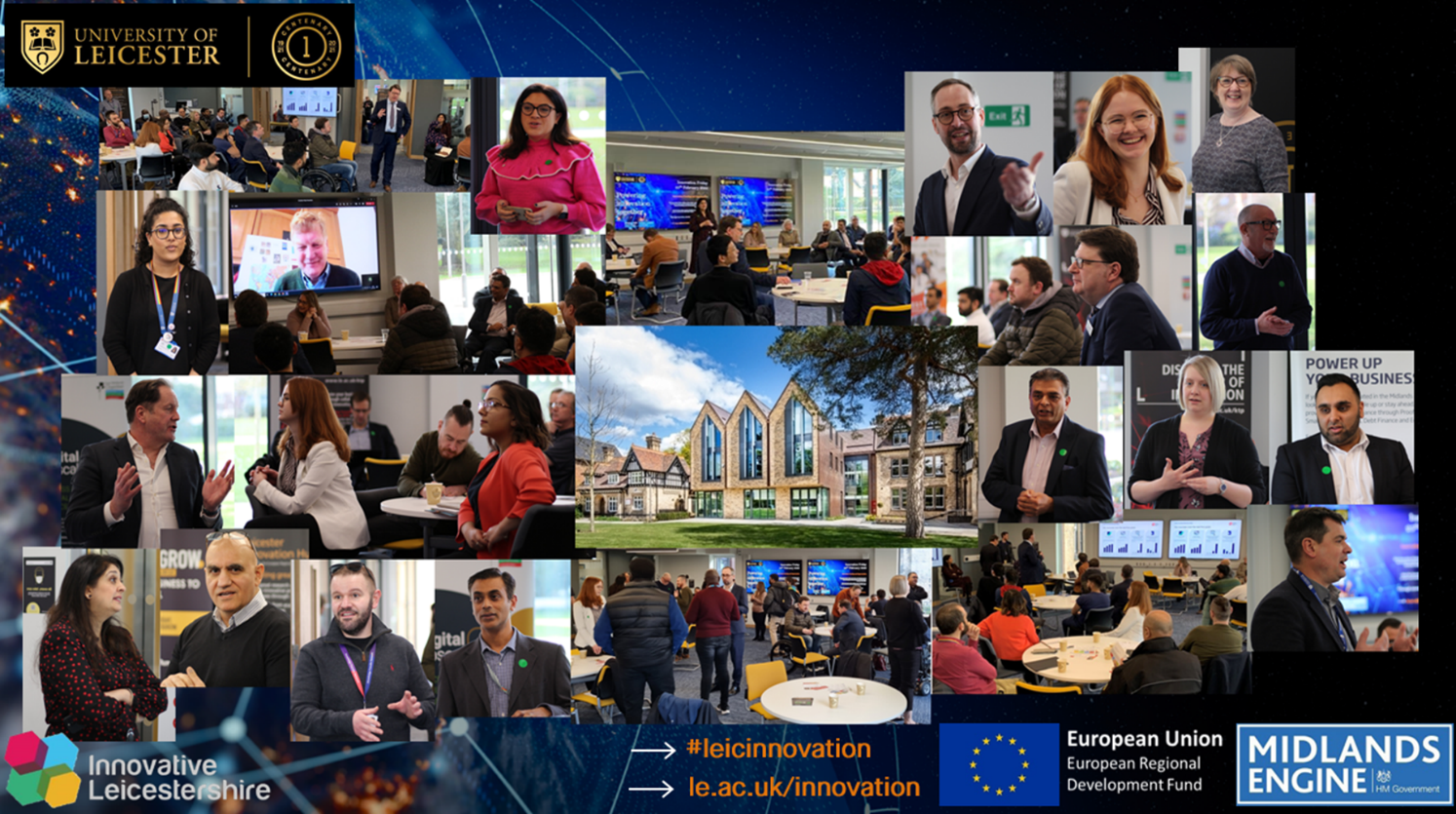 Inspiring entrepreneur Byron Dixon OBE, Founder and CEO of Leicester based Microfresh, wowed attendees sharing his journey from concept to start-up and on to international success with the R&D and innovation support through the University of Leicester enabling their journey. Including his work as Champion of Help to Grow Programme delivered by the School of Business senior business leaders to help them to develop tailored business growth plans to help them lead their businesses to their full potential.
To find out more visit the School of Business website or the Leicester Innovation Hub.
Through our partnerships, enthusiasm and proactive, valuable range of innovation support programmes; the Leicester Innovation Hub has worked together with regional stakeholders and partners in creating strong, growing and prosperous community of innovation active businesses supported by an expansive R&D and innovation ecosystem.