War and the Culture of Childhood in the Long Nineteenth Century
>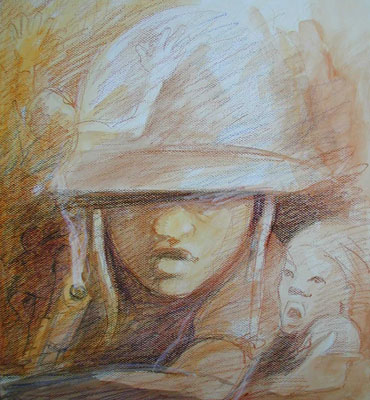 Dr Emma Butcher's project focuses on children within conflicts of Empire during the nineteenth century. By analysing wartime letters, journals and memoirs written by children, this project seeks to demonstrate that children had agency both on and off the battlefield. The nineteenth century was an important transitional period in the history of war, demonstrating the move from traditional to mechanised warfare alongside the rise of British Imperialism. Landmark 'Wars of Empire' were pivotal and influential upon the public's imagination; the responses of children caught up in these conflicts are imaginative and authoritative. Many of their writings lie dormant in both national and international archives; this project will uncover these marginalised voices, which, in turn, shed light on the broader nineteenth century military family and emotional cultures in times of conflict.
The project has developed from Emma's previous research on the Brontës. Her past project invited the reader to reconsider the Brontës as important war commentators, analysing how Charlotte and Branwell Brontë's juvenilia – written between the ages of 10 and 23 - responded to military masculinity and reimagined early nineteenth-century warfare. Her book, The Brontës and War, will be published by Palgrave in 2019.
Media and events
In 2017, Emma was named as a BBC/AHRC New Generation Thinker. She can regularly be found talking about her research both on radio and through magazines. If you are interested in hearing from or working with Emma, please either contact her directly, or through her agent.
Listen to Emma discussing Kids with Guns for Radio 3's Free Thinking programme