The Marc Fitch House
Until the summer of 2020, the Centre was accommodated in its own premises, Marc Fitch House on Salisbury Road, just off the main University campus. The Centre (including the libraries) ares now located on in the Attenborough building on the main campus. This page is about our former location in Marc Fitch House.
Marc Fitch Fund library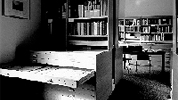 The most important asset of the Centre is the Marc Fitch Fund library, built up over many years by F.W. Steer and Dr Fitch. It forms an important collection covering all aspects of local history. In addition, the Map Room contains a complete coverage of England and Wales, Ordnance Survey and many facsimiles of historical maps, and rare sets of original maps.
Archive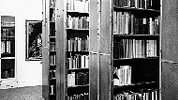 The Centre also has an archive, containing inter alia, the working papers of the two distinguished local historians W.G. Hoskins and F.W. Steer, rare topographical prints and bequests of slide collections. Many of these collections are currently being digitised.