Prestigious award to School of Education academic working towards peace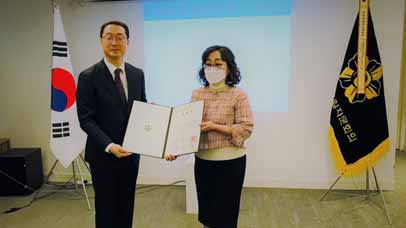 The leading role played by a University of Leicester academic working towards peace in the Korean Peninsula has been recognised with a prestigious award.
Dr Yoonjeong Lee, a Teaching Fellow in the School of Education, has been awarded the Presidential Citation by the government of the Republic of Korea.
"It is my great honour to be awarded the Presidential Citation," says Dr Lee. "The Peaceful Unification Advisory Council (PUAC) of the Republic of Korea (South Korea) is a presidential consultative body set up to make policy proposals to the President of the Republic of Korea concerning a democratic and peaceful inter-Korean unification.
"Since 2020, the Education and Research Group of PUAC UK has conducted monthly lecture series with the theme of building trust and sustainable relationship in the Korean Peninsula. The group organised the quality sessions with recognised experts, ranging from academics, practitioners, and government officials.
"The group also organised the UK Peace Forum on the Korean Peninsula, as well as the UK University Student Peace in Korea Essay Competition in partnership with the Embassy of the Republic of Korea in the United Kingdom.
"I served the wonderful team as the leader of the Education and Research Group of PUAC UK for the past two years, and it was recognised by the Korean government.
"Many people forget that the Korean War has not yet officially ended. I pray that South and North Korea can end the War once and for all and start building a relationship that is based on trust. It may be a challenging task, but not an impossible one. Until then, PUAC UK and I will make continuous efforts towards the beginning of peace in the peninsular."