Declaration on openness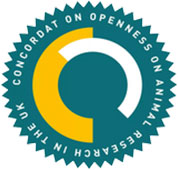 In May 2014, 72 signatories including the University of Leicester signed a Declaration on Openness on Animal Research.
The University was one of 40 organisations who committed to develop a Concordat, setting out how they would be more open about the ways in which animals are used in scientific, medical and veterinary research in the UK.
To date, 122 UK organisations have signed the Concordat on Openness on Animal Research and the University continues to engage with UAR to develop their openness in meeting the Commitments:
We will be clear about when, how and why we use animals in research
We will enhance our communications with the media and the public about our research using animals
We will be proactive in providing opportunities for the public to find out about research using animals
We will report on progress annually and share our experiences
Awards presented to the University on our openness
Leaders in Openness Award (2019-2022)
Leaders in Openness are the organisations who commit considerable resource and energy to following best practice, embedding openness within their organisations, and making the aims of the Concordat a reality.
Research communications wins national award (2016)
The University of Leicester won its fourth award for communicating animal research in December 2016. The judging committee selected examples of best practice that they felt were appropriate to a range of audiences, and which had a component that was original or truly leading in terms of institutional practice.
Openness Award for animal research (2015)
The University of Leicester received the winning prize for leading an enormous culture change in openness with far-reaching impacts. The award was presented at the 79th Paget Lecture and Second Annual Openness Awards 2015.