Law
Law
LLM, 1-2 years, full- or part-time
This is for you if... you want to enhance your legal skills and knowledge and create your own programme from a wide range of topics to suit your specialisms and interests.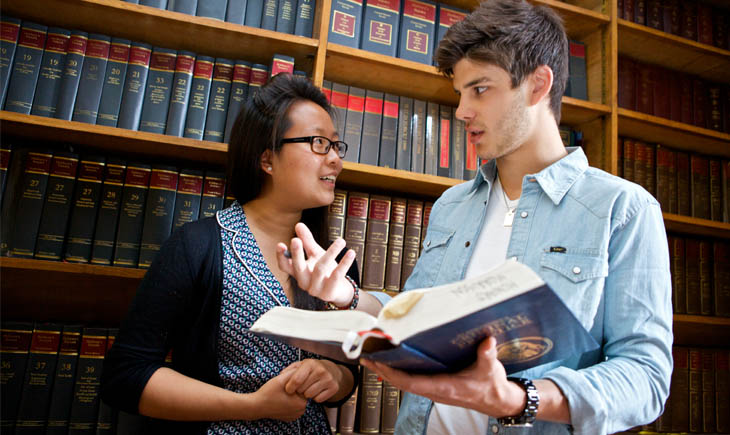 Course Description
This course is ideal if you are looking for a broad selection of law modules that allow you to create your own portfolio of topics to suit your own interests or needs. You can customise your course by choosing more than 40 modules taught by our leading academics.
You will be able to choose eight option modules. The choices will enable you to combine one or more modules on different areas of law including commercial law, human rights, and medical law to meet your specialist interests or niche career plans.
Your LLM degree will equip you with advanced, specialised legal training, and broaden your career options. Our course will be of particular help if you are planning a career in non-specialist legal practice or in widely based legal policy oriented organisations whether commercial, non-governmental organisation or government based.
We have more than 60 members of academic staff who are all active in research in their chosen fields, meaning you will be taught by academics who are working at the cutting edge of their subject.
Other available streams are:
Why Leicester?
The Leicester Law School a top UK law school. In the Complete University Guide 2015, we are ranked fifth best in the country for graduate employability.
This course offers a wide range of extra-curriculum activities designed to enhance your skills and employability, such as the prestigious VIS Moot competition in Vienna, which is an excellent venue for networking.
Our LLM courses are taught by leading academics in small seminar groups, with a focus on enriching class debate and scholarly thought, and on developing excellence in legal research.
Our LLM students are invited in the meetings of the Research Clusters of Leicester Law School, which enables you to participate in the School's research activities and familiarise yourself with academic debates.
Course Structure
Semester 1
Semester 1
Choose four option modules from:
Civil Dispute Resolution Methods
Human Rights and Human Wrongs: Core Principles
International Commercial Arbitration *
Law of Armed Conflict
Law of United Nations
Legal Responses to Global Injustice
Marine Insurance Law
Medical Jurisprudence 1
* = To take these modules you must already have a law degree (or a degree in which law is a substantial element).
Modules shown represent choices available to current students. The range of modules available and the content of any individual module may change in future years.
Semester 2
Semester 2
Choose four option modules from:
Autonomy Capacity and Consent
Capital Markets
Contemporary Perspectives on Human Rights
Feminist Expressions on International Law
International Commercial Litigation: Choice of Law *
International Commercial Litigation: Jurisdiction
International Migration Law
International Trade Financing Law
Medical Jurisprudence 2
Mental Health Law
Reasoning in Law
Transnational Corporate Governance
Use of Force by States
* = To take these modules you must already have a law degree (or a degree in which law is a substantial element).
Modules shown represent choices available to current students. The range of modules available and the content of any individual module may change in future years.
Teaching and Assessment
The modules are taught by seminars that are designed to allow you to discuss and debate the subject, with guidance from a teaching team. As we focus on research based learning, most of the assessment is by coursework. Some modules may be assessed by presentation, examination or reflective log. Over the summer you will be required to complete a 15,000 word dissertation on a subject of your own choice.
Research Stories
Entry Requirements
A good second class degree or an equivalent degree in an appropriate discipline
Relevant professional experience post-graduation is given due credit in considering entry requirements.
English Language Requirements
IELTS 7.0 or equivalent. If your first language is not English, you may need to provide evidence of your English language ability. If you do not yet meet our requirements, our English Language Teaching Unit (ELTU) offers a range of courses to help you to improve your English to the necessary standard.
International Qualifications
Find your country in this list to check equivalent qualifications, scholarships and additional requirements.
Countries list
Career Opportunities
Our Law Fair is held annually and attracts over 40 law firms and other graduate employers.
Two dedicated law careers tutors are on hand to discuss career options, upcoming opportunities and give advice about different firms.
We host a wide range of external speakers every year, representing the whole legal profession.
You get the chance to develop your legal skills during the course:
The Legal Advice Clinic allows you to advise non-law students on legal issues (with support from academics and local solicitors).
The 'LEGAL WEEK' is an informal student-staff discussion group, which runs every two weeks and contemporary issues with legal implications are discussed. 'LEGAL WEEK' allows interaction, fruitful exchange of ideas and improves current awareness.
Your professional competencies can be enhanced by getting involved with the debating, client interviewing, negotiating and mooting activities, organised by the Student Law Society.
Careers
Our Career Development Service is here to support you, with advice on interviews, CVs, work experience, volunteering and more. From Freshers' Week to Graduation and beyond, they are here to help you reach your professional goals.
| Course | Qualification | Duration | Start Dates | Availability |
| --- | --- | --- | --- | --- |
| Law | LLM | 1 year full-time | September each year | Apply Now |
| Law | LLM | 2 years part-time | September each year | Apply Now |
Course
Law
Qualification
LLM
Duration
1 year full-time
Start Dates
September each year
Availability
Course
Law
Qualification
LLM
Duration
2 years part-time
Start Dates
September each year
Availability