International Security Studies
International Security Studies
MA, PGDip, 1-2 years, full- or part-time
This is for you if... you want to gain a deeper understanding of the key issues surrounding contemporary international security and develop the critical and analytical skills to address those issues.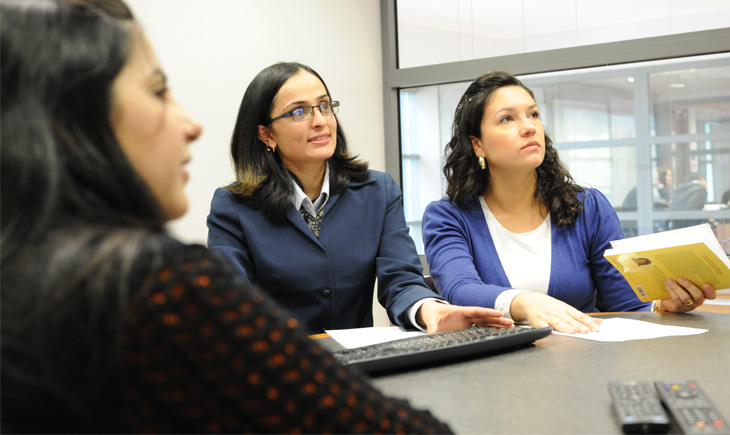 Course Description
This course provides a thorough grounding in international security studies, focusing on developments since the end of the Cold War. International security problems often stem from complex political, economic, religious, environmental, social and cultural causes, and involve a broad range of non-state actors. The study of security in the contemporary international system thus poses a series of challenging intellectual questions and policy dilemmas, which this course will help you address in an informed and creative manner.
This degree combines a study of the main theories and concepts in international security with empirical analysis of contemporary security issues such as terrorism, proliferation, failed states and security communities.
The MA in International Security Studies will equip you with the skills to think critically and analytically about international security and to consider the complex causes of many contemporary security problems. You will develop the ability to analyse international security problems using a mix of theoretical and empirical tools.
You will complete one core module on 'International Security' and you can then choose three option modules, which, along with your dissertation, allow you to develop your specialist knowledge in your key area of interest.
Key Facts
Start date

September each year

Department

Politics and International Relations

Contact
Why Leicester?
Our staff play leading roles in cutting-edge global research networks, actively advising and engaging with global policy communities, civil society, the media and public.
We conduct a range of specialist research, organised through three research clusters: Intelligence, Security and Strategic Studies; Parties, Participation and Public Opinion; and Global Ethics and Political Theory.
We host an exciting range of events, including research seminars with world-renowned speakers, ESRC sponsored seminar series and international conferences.
Course Structure
Core modules
Core modules
Plus your Dissertation.
Modules shown represent choices available to current students. The range of modules available and the content of any individual module may change in future years.
Option modules
Option modules
Choose three option modules from:
America and the World: The Making of US Foreign Policy
Governance and Corruption
Human Rights, Ethics and Intervention in Action
Public Opinion & Foreign Policy
The British Way of Warfare: Counter Insurgency since 1945
Modules shown represent choices available to current students. The range of modules available and the content of any individual module may change in future years.
Teaching and Assessment
You will be taught by seminars. Throughout the programme, you will have access to a comprehensively resourced library and an established student support system. Each module lasts for one semester (11 weeks) and normally involves two hours of teaching per week. If you are studying full-time, you will complete four modules by the end of the second semester and, if you are progressing to the MA, you will submit your dissertation by the end of September.
You will be assessed through a combination of essays, seminar papers and (if you are completing the MA) your dissertation of 12,000 to 15,000 words.
Entry Requirements
2:1 degree or its equivalent in Politics, History, International Relations or other related subjects.
Equivalent relevant professional experience may be considered.
English Language Requirements
IELTS 6.5 or equivalent. If your first language is not English, you may need to provide evidence of your English language ability. If you do not yet meet our requirements, our English Language Teaching Unit (ELTU) offers a range of courses to help you to improve your English to the necessary standard.
International Qualifications
Find your country in this list to check equivalent qualifications, scholarships and additional requirements.
Countries list
Career Opportunities
Our postgraduate degrees are an excellent way to enhance your expertise and career prospects and provide a foundation for a wide range of career options. You may seek to use your knowledge to work in government service, international organisations or areas of political research and journalism. Or you may opt to look for employment in fields such as banking, business or teaching where your MA will be respected as a postgraduate qualification.
You may also want to consider further research after you graduate. Political Research graduates specialising in politics research find that the research skills the degree fosters are invaluable. They now occupy posts as lecturers, as research associates and as research assistants.
Students taking postgraduate degrees offered by Politics and International Relations at Leicester have gone into careers in the civil service, business, the law, the police, banking, journalism, management consultancy, librarianship and teaching. Others have gone on to doctoral research.
Careers
Our Career Development Service is here to support you, with advice on interviews, CVs, work experience, volunteering and more. From Freshers' Week to Graduation and beyond, they are here to help you reach your professional goals.
| Course | Qualification | Duration | Start Dates | Availability |
| --- | --- | --- | --- | --- |
| International Security Studies | MA | 1 year full-time | September each year | Apply Now |
| International Security Studies | MA | 2 years part-time | September each year | Apply Now |
Course
International Security Studies
Qualification
MA
Duration
1 year full-time
Start Dates
September each year
Availability
Course
International Security Studies
Qualification
MA
Duration
2 years part-time
Start Dates
September each year
Availability