International Relations and World Order
MA, 24 months, by distance learning
This is for you if... the flexibility of studying by distance learning whilst gaining a critical understanding of the nature and dynamics of international relations in the contemporary global system.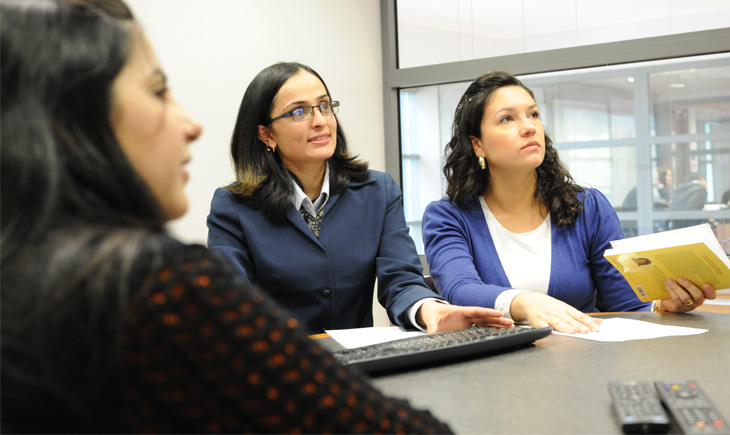 Course Description
This degree will provide a comprehensive analysis of contemporary international relations in the post-Cold War period. By taking this course you will have the opportunity to study a range of international issues but especially to investigate whether international relations in the post-Cold War period has been founded upon a Western model of 'World Order'.
The course will introduce you to differing concepts of order in the post-Cold War world. It will enable you to think critically about the nature of international relations: about the extent to which Western interests, institutions and culture dominate the world system and the challenges and responses generated by that dominance. The course focuses on both theoretical and empirical approaches to this subject.
You will complete one core module which will critically examine the means by which the West maintains its concept of 'Order'. You can then choose three option modules which, along with your dissertation, allow you to specialise in areas that interest you or complement your professional goals.
As well as equipping you with a detailed understanding of contemporary international relations, this degree will develop your ability to think both analytically and critically and to produce reasoned arguments encompassing your increased knowledge and understanding of the issues.
Distance learning gives you the flexibility to fit your study around existing commitments and enhance your career prospects without having to leave employment.
If you have any questions about this course, join us for a live online chat with academic tutors and admissions staff.
Why Leicester?
Our staff play leading roles in cutting-edge global research networks, actively advising and engaging with global policy communities, civil society, the media and public.
You'll have the opportunity to share ideas and debate with a diverse and interesting group of students, many of whom work in sectors related to security and conflict.
Distance learning lets you apply new knowledge and insights to your working life while you are still studying. Many students choose to tackle work-related topics in their dissertations.
Politics and International Relations at Leicester offers a wide range of option modules, letting you shape your studies to fit to your own research interests or professional development.
Course Structure
Core modules
Core modules
Plus your Dissertation.
Modules shown represent choices available to current students. The range of modules available and the content of any individual module may change in future years.
Option modules
Option modules
Choose three option modules from:
Modules shown represent choices available to current students. The range of modules available and the content of any individual module may change in future years.
Additional Information
Key Dates
Start date: TBC
Application deadline: TBC
Teaching and Assessment
Distance Learning
This course is taught entirely online via our virtual learning environment, Blackboard, therefore it is essential that you have reliable, regular access to the internet (preferably with a broadband connection) in order to participate.

As a distance learning student, you will have access to the University Library's electronic service, the Leicester Digital Library, which includes a large number of e-journals and e-books. You can also make use of the University's Career Development Service as well as a broad range of other support services.

If you live close to Leicester you can, of course, visit the Library in person. For UK-based students who wish to use other libraries, we can issue you with a card which allows you to do so. This is a national scheme which allows distance learning students to borrow material from up to three other participating libraries.
You will be guided through your modules by a well-trained and experienced tutor who will be available online throughout your studies. You will have access to the library's special service for distance learning students, access to the internet and database services, as well as the virtual learning support environment, Blackboard.
Teaching and Assessment

You will get a weekly reading list accompanied by questions or exercises to get you thinking and help you engage critically with that week's literature. Each week you are invited to join our online forums to discuss your reading, ask questions, share ideas and debate arguments.
Alongside your weekly reading and discussions you are expected to complete six E-tivities (or online activities). E-tivities are designed to build a supportive online community of students as well as develop your key scholarly skills. E-tivities take the form of a combination of non-credit bearing and credit-bearing assessments designed to complement and support the learning objectives for your particular module. Credit-bearing assessments for each module include an article analysis and 5,000-word end of module essay.
Your modules are structured enough to keep your studies on track whilst remaining flexible to the unique needs of distance learners, many of whom we know combine studies with demanding jobs.
You will be supported by a dedicated team of tutors and support staff available through Blackboard and email. Administrative support is available by telephone, and you can contact your personal tutor via telephone or Skype. You will be encouraged to contact other students to share views, ideas and issues and to create a virtual student community.
For the MA you must complete a 12,000-15,000 word dissertation.
Entry Requirements
2:1 degree or its equivalent in Politics, History, International Relations or other related subjects.
Equivalent relevant professional experience may be considered.
English Language Requirements
IELTS 6.5 or equivalent. If your first language is not English, you may need to provide evidence of your English language ability.
International Qualifications
Find your country in this list to check equivalent qualifications, scholarships and additional requirements.
Countries list
Fees and Funding
This is the total course fee. You will pay this fee, wherever in the world you live.

Starting in March 2018

Starting in September 2018 or March 2019

Find out more about how to pay and scholarships and funding.

Did you know you can apply for a Postgraduate Loan of up to £10,000, subject to eligibility?



This is the total course fee. You will pay this fee, wherever in the world you live.

Starting in March 2018

Starting in September 2018 or March 2019

Find out more about how to pay and scholarships and funding.
Career Opportunities
Our postgraduate degrees are an excellent way to enhance your expertise and career prospects. A postgraduate course in politics and/or international relations provides a foundation for a wide range of career options. You may seek to use your knowledge to work in government service, international organisations or areas of political research and journalism. Or you may opt to look for employment in an unrelated field such as banking, business or teaching where your MA will be respected as a postgraduate qualification.
Our politics and international relations courses are offered via distance learning, enabling you to tailor your study around your other commitments. The wide range of option modules provide you with the flexibility to tailor your course around your interests and also provide you with the skills and knowledge to move into a variety of careers or postgraduate research.
Careers
Our Career Development Service is here to support you – by email, phone or skype – with advice on interviews, CVs, work experience and more. From registration to Graduation and beyond, they are here to help you reach your professional goals.
| Course | Qualification | Duration | Start Dates | Availability |
| --- | --- | --- | --- | --- |
| International Relations and World Order | MA | 25 months by distance learning | March and September each year | Apply Now |
Course
International Relations and World Order
Qualification
MA
Duration
25 months by distance learning
Start Dates
March and September each year
Availability