Versha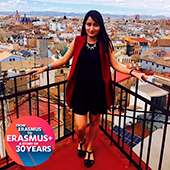 Name: Versha
Erasmus year: 2016
Destination: Universitat Politècnica de Valencia, Spain
My Erasmus+ trip to Valencia, Spain was amazing! I got to meet people working in similar positions as me from universities located across Europe. I had the opportunity to learn about the challenges facing these institutions and the processes they use. Staff at UPV were also really friendly and showed us around Valencia!
Explore our other Thirty Faces of Erasmus+
Interested in going abroad as part of your Leicester degree? If you are currently studying an undergraduate degree at Leicester it may be possible to study abroad at an Erasmus+ destination. We have more than 100 exchange agreements with universities in 22 European countries, and send over 150 Leicester students to Europe each year. For more information, please email us at studyabroad@le.ac.uk.