Tyler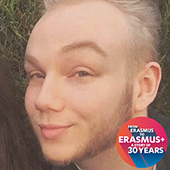 Name: Tyler
Erasmus year: 2016-17
Destination: Utrecht University, the Netherlands
My Erasmus+ year to the Netherlands has opened up so many doors for me! Academically, it has allowed me to experience an entirely different curriculum which has made me realise the kind of career I would like in the future. Socially, I have experienced new and exciting things which would never have been possible at home. I've developed a keen interest in international affairs, taken trips to fascinating new places, and even got my first tattoo (of a bike, the most Dutch thing I could think of!) Best of all, the people I have met are life-changing, and are friends I will have forever!
Explore our other Thirty Faces of Erasmus+
Interested in going abroad as part of your Leicester degree? If you are currently studying an undergraduate degree at Leicester it may be possible to study abroad at an Erasmus+ destination. We have more than 100 exchange agreements with universities in 22 European countries, and send over 150 Leicester students to Europe each year. For more information, please email us at studyabroad@le.ac.uk.