Stelios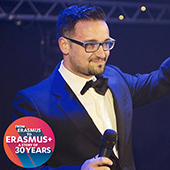 Name: Stelios
Erasmus year: 2017
Destination: University of Modena and Regio Emilia, Italy
I had a very stimulating Erasmus+ experience in Modena, Italy. I was fascinated by the level of commitment my Italian colleagues showed, their approachability and the respect they enjoy from students. I had to adapt to a new environment and I learnt a lot during my visit there. Teaching Italian students was challenging, but I managed to combine my experience from the UK with my Mediterranean background and the outcome was an interesting teaching and learning experience. My visit will pave the way for closer cooperation between Leicester and Modena and it was the first of much more to come!
Explore our other Thirty Faces of Erasmus+
Interested in going abroad as part of your Leicester degree? If you are currently studying an undergraduate degree at Leicester it may be possible to study abroad at an Erasmus+ destination. We have more than 100 exchange agreements with universities in 22 European countries, and send over 150 Leicester students to Europe each year. For more information, please email us at studyabroad@le.ac.uk.