Sofia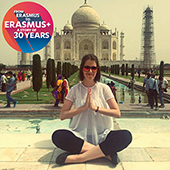 Name: Sofia
Erasmus year: 2011
Destination: University of Leicester, UK
My Erasmus+ experience at the University of Leicester was my first international adventure and it was a turning point for myself and my future. I changed a lot: from shy and introvert to self-confident and more aware of the outside world. Since then, every step I took across my international path led me today to India, where I currently live. My journey started in Leicester and the beauty of it is that I don't know where I will go next. I would recommend Erasmus+ to all the students who are willing to step out of their comfort zone, travel and have an unforgettable educational experience.
Explore our other Thirty Faces of Erasmus+
Interested in going abroad as part of your Leicester degree? If you are currently studying an undergraduate degree at Leicester it may be possible to study abroad at an Erasmus+ destination. We have more than 100 exchange agreements with universities in 22 European countries, and send over 150 Leicester students to Europe each year. For more information, please email us at studyabroad@le.ac.uk.