Riikka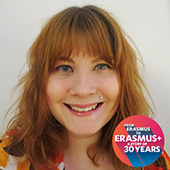 Name: Riikka
Erasmus year: 2016
Destination: University of Leicester, UK
I went on a student exchange from Finland to the UK in 2010-2011 and gained an invaluable experience, connections across the globe and a ton of confidence. My exchange year inspired me to get involved in a local Erasmus+ Student Network (ESN) branch. I came back to the UK in 2016, for a six month internship at the University of Leicester. During my stay I learned how UK universities run and what types of task people who work at an international office have. I am now aiming to have a career involved in student mobility or an international NGO and feel Erasmus+ has given me all the tools needed to succeed after graduation.
Explore our other Thirty Faces of Erasmus+
Interested in going abroad as part of your Leicester degree? If you are currently studying an undergraduate degree at Leicester it may be possible to study abroad at an Erasmus+ destination. We have more than 100 exchange agreements with universities in 22 European countries, and send over 150 Leicester students to Europe each year. For more information, please email us at studyabroad@le.ac.uk.