Paula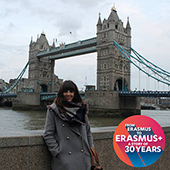 Name: Paula
Erasmus year: 2015-16
Destination: University of Leicester, UK
My Erasmus+ experience has had an impact on every field of my life. I learnt how to live by myself in another country and with a different language than mine. Then, I improved my English and my grades in my home university thanks to this improvement in my Erasmus+ year. People in Leicester were always friendly and willing to help me with whatever I needed. I would definitely do it again and at Leicester of course! I miss it!
Explore our other Thirty Faces of Erasmus+
Interested in going abroad as part of your Leicester degree? If you are currently studying an undergraduate degree at Leicester it may be possible to study abroad at an Erasmus+ destination. We have more than 100 exchange agreements with universities in 22 European countries, and send over 150 Leicester students to Europe each year. For more information, please email us at studyabroad@le.ac.uk.