Niccolo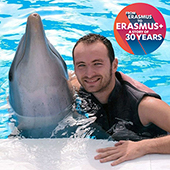 Name: Niccolo
Erasmus year: 2008-09
Destination: University of Leicester, UK
My Erasmus+ exchange was the best experience of my life. I was able to meet friends from all over the world and to improve my English skills. Thanks to this experience I totally opened my mind and I began to feel like a citizen of the world. This experience also helped me from a professional point of view, since I am currently working in an international law firm where I have to speak English every day.
Explore our other Thirty Faces of Erasmus+
Interested in going abroad as part of your Leicester degree? If you are currently studying an undergraduate degree at Leicester it may be possible to study abroad at an Erasmus+ destination. We have more than 100 exchange agreements with universities in 22 European countries, and send over 150 Leicester students to Europe each year. For more information, please email us at studyabroad@le.ac.uk.