Maxime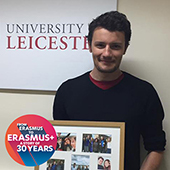 Name: Maxime
Erasmus year: 2016
Destination: University of Leicester, UK
Having been able to study abroad twice in countries that are not involved in the Erasmus+ program, doing an internship for the mobility team at the University of Leicester seemed to be the perfect way to finish my master degree. Coming from France, I naively thought that I knew most things about our favourite rival and its customs. I now have to admit that I have been wrong all along. This country has and is still surprising me everyday. This experience has proved to me that Erasmus+ is a key to students self development and EU survival and that that promoting Erasmus+ should be my job.
Explore our other Thirty Faces of Erasmus+
Interested in going abroad as part of your Leicester degree? If you are currently studying an undergraduate degree at Leicester it may be possible to study abroad at an Erasmus+ destination. We have more than 100 exchange agreements with universities in 22 European countries, and send over 150 Leicester students to Europe each year. For more information, please email us at studyabroad@le.ac.uk.