Marie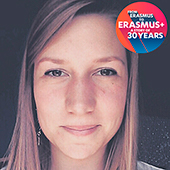 Name: Marie
Erasmus year: 2015-16
Destination: University of Leicester, UK
Erasmus+ is a once-in-a-lifetime experience. It may be hard in the beginning, but it ultimately has a positive impact on your social and academic skills. You have to adapt to a new place, to new people, to a new academic system. It's a complete - though temporary - change that is challenging and rewarding. All the skills I personally developed during my Erasmus+ programme are useful today, in both my academic and work life. These include, being able to adapt, find solutions in an unknown context and be able to do every single thing by yourself.
Explore our other Thirty Faces of Erasmus+
Interested in going abroad as part of your Leicester degree? If you are currently studying an undergraduate degree at Leicester it may be possible to study abroad at an Erasmus+ destination. We have more than 100 exchange agreements with universities in 22 European countries, and send over 150 Leicester students to Europe each year. For more information, please email us at studyabroad@le.ac.uk.