Lena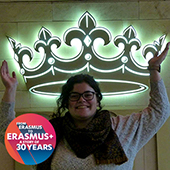 Name: Léna
Erasmus year: 2016-17
Destination: University of Leicester, UK
My experience abroad impacted my life in a very good way. In my academic life, the University of Leicester showed me another method to teach and to learn archaeology. I couldn't have done these modules in my home university which will help me for my future job. Even for summer jobs, employers will think that you are more serious and independent because of your year abroad. During this year, I met a lot of different people from all around the world but also from around my home country with whom I hope stay in touch. I also found love and I couldn't have met him if I wouldn't have done this year abroad.
Explore our other Thirty Faces of Erasmus+
Interested in going abroad as part of your Leicester degree? If you are currently studying an undergraduate degree at Leicester it may be possible to study abroad at an Erasmus+ destination. We have more than 100 exchange agreements with universities in 22 European countries, and send over 150 Leicester students to Europe each year. For more information, please email us at studyabroad@le.ac.uk.