Khadija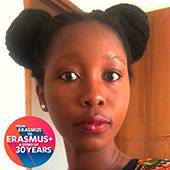 Name: Khadija
Erasmus year: 2015-16
Destination: University of Strasbourg, France
The Erasmus+ experience impacted by personal life as I was able to meet new people from different cultures and make new friends with people I would have never met had I not taken part in an Erasmus+ exchange. Furthermore, I was able to travel and experience new cultures and visit cities that I've always wanted to see. It impacted my academic life as I was able to study topics and modules that are not available for my course at the University of Leicester. Overall, I loved being part of Erasmus+ and would recommend that everyone take part in a year abroad programme if they get the chance.
Explore our other Thirty Faces of Erasmus+
Interested in going abroad as part of your Leicester degree? If you are currently studying an undergraduate degree at Leicester it may be possible to study abroad at an Erasmus+ destination. We have more than 100 exchange agreements with universities in 22 European countries, and send over 150 Leicester students to Europe each year. For more information, please email us at studyabroad@le.ac.uk.