Katie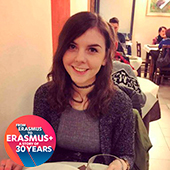 Name: Katie
Erasmus year: 2014-15
Destination: University of Pisa, Italy
Spending a year in Italy on an Erasmus+ exchange has had a profoundly positive influence on so many aspects of my life. It's helped me to become the person I am today and it's done so much for my confidence and personal development. I have since gone on to become President of the University of Leicester Erasmus+ and Exchange Society which has been an equally rewarding and fulfilling experience for me. Making friends with people from around the globe has opened my eyes to a diverse range of cultures while working abroad has given me skills that continue to benefit my work and studies today.
Explore our other Thirty Faces of Erasmus+
Interested in going abroad as part of your Leicester degree? If you are currently studying an undergraduate degree at Leicester it may be possible to study abroad at an Erasmus+ destination. We have more than 100 exchange agreements with universities in 22 European countries, and send over 150 Leicester students to Europe each year. For more information, please email us at studyabroad@le.ac.uk.