Katharina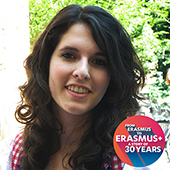 Name: Katharina
Erasmus year: 2015
Destination: University of Leicester, UK
Studying in Leicester was an absolutely rewarding experience for me. Besides improving my English skills, I have learned a lot about myself. I learned to be more confident, to be more outgoing and to try new things. What I enjoyed most about the lectures was the opportunity to study English with native speakers. I know that I have learned a lot from my colleagues and lecturers about the English language and English literature. As a future English teacher, I think it is essential to spend some time abroad. It is not enough to study books, you have to experience the country and language.
Explore our other Thirty Faces of Erasmus+
Interested in going abroad as part of your Leicester degree? If you are currently studying an undergraduate degree at Leicester it may be possible to study abroad at an Erasmus+ destination. We have more than 100 exchange agreements with universities in 22 European countries, and send over 150 Leicester students to Europe each year. For more information, please email us at studyabroad@le.ac.uk.