Jyrki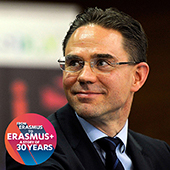 Name: Jyrki Katainen
Erasmus year: 1995-96
Destination: University of Leicester, UK
My Erasmus+ year at Leicester was the first time I lived in a multicultural environment and it was the first time I understood that I had more opportunities than what I had thought before. I had always been interested in politics and to some extent in European politics too but during my Erasmus+ year I got more interested in European affairs, and in that sense, Erasmus+ had a big impact on my future as a politician. I think Erasmus+ is one of the most important programmes because it shows everybody what integration is all about.
Explore our other Thirty Faces of Erasmus+
Interested in going abroad as part of your Leicester degree? If you are currently studying an undergraduate degree at Leicester it may be possible to study abroad at an Erasmus+ destination. We have more than 100 exchange agreements with universities in 22 European countries, and send over 150 Leicester students to Europe each year. For more information, please email us at studyabroad@le.ac.uk.