Erkin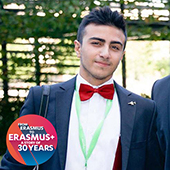 Name: Erkin
Erasmus year: 2016
Destination: University of Leicester, UK
I have always wanted to study abroad, even for a short period of time. Firstly, the stories and experiences that my older brother used to tell me about his Erasmus+ participation in Vienna. Then my own need to explore what it is like to live and study alone while meeting people from everywhere and being exposed to a world of opportunities made me send my application. I still remember and will never forget what I named the folder in which I saved my application documents - 'letsgotoleicester'!
Explore our other Thirty Faces of Erasmus+
Interested in going abroad as part of your Leicester degree? If you are currently studying an undergraduate degree at Leicester it may be possible to study abroad at an Erasmus+ destination. We have more than 100 exchange agreements with universities in 22 European countries, and send over 150 Leicester students to Europe each year. For more information, please email us at studyabroad@le.ac.uk.