Elizabeth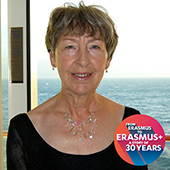 Name: Elizabeth
Erasmus year: 1995
Destination: University of Leiden, the Netherlands
As a former Secondary Modern pupil, I was astonished to be given the opportunity to attend the University of Leicester as a mature student. I was further astonished to be accepted, having never lived outside Leicester, onto the Erasmus+ programme at the University of Leiden where I spent a very productive and rewarding 3 months. I consider my time in Leiden gave me the confidence not only to successfully complete my degree but also led to an award of a bursary to undertake my MA. Since then I have worked continuously in the Voluntary Sector as a Welfare Rights Adviser at AGEUK. Thanks Erasmus+!
Explore our other Thirty Faces of Erasmus+
Interested in going abroad as part of your Leicester degree? If you are currently studying an undergraduate degree at Leicester it may be possible to study abroad at an Erasmus+ destination. We have more than 100 exchange agreements with universities in 22 European countries, and send over 150 Leicester students to Europe each year. For more information, please email us at studyabroad@le.ac.uk.