Chris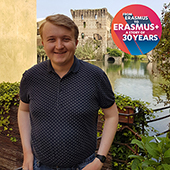 Name: Chris
Erasmus year: 2012-13
Destination: Utrecht University, the Netherlands
I got so much out of my Erasmus+ student experience at Utrecht University while studying BA Geography at the University of Leicester, that I decided to build a career in helping others get the same benefits out of studying abroad as I did. Starting with an internship at the University of Leicester International Office, I moved on to a position in London, and am currently an Erasmus+ and Study Abroad Officer at the University of Reading. I've been able to participate in two Erasmus+ staff mobility opportunities in France and Italy, showing that there's a lot more to Erasmus+ than just the student year abroad.
Explore our other Thirty Faces of Erasmus+
Interested in going abroad as part of your Leicester degree? If you are currently studying an undergraduate degree at Leicester it may be possible to study abroad at an Erasmus+ destination. We have more than 100 exchange agreements with universities in 22 European countries, and send over 150 Leicester students to Europe each year. For more information, please email us at studyabroad@le.ac.uk.