An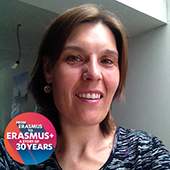 Name: An
Erasmus year: 1995-96
Destination: University of Leicester, UK
Erasmus+ gave me wings and taught me I could dream bigger. It sparkled my curiosity and friends from all over Europe enriched my life. It was the start of an international life that led me to work in the Middle East, Africa, Asia and Latin America. Now, as an international officer at a Belgian university, I support students during their own international experience and I hope to inspire many more to take part in this incredible opportunity. Knowing the other is the best cure for thinking you are absolutely right. International experiences are the best answer to the challenges we face today.
Explore our other Thirty Faces of Erasmus+
Interested in going abroad as part of your Leicester degree? If you are currently studying an undergraduate degree at Leicester it may be possible to study abroad at an Erasmus+ destination. We have more than 100 exchange agreements with universities in 22 European countries, and send over 150 Leicester students to Europe each year. For more information, please email us at studyabroad@le.ac.uk.