Alina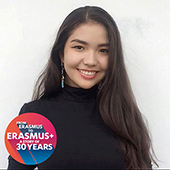 Name: Alina
Erasmus year: 2017
Destination: University of Leicester, UK
Britain is a wish of my life! Erasmus+ gave me a great opportunity to study abroad. I became confident, goal-oriented and sociable. I met new friends, took part in local events and travelled. My relatives are interested in my experience of English culture and lifestyle and I am able to share Kazakh traditions, food and language with Leicester students. Academic life at the University of Leicester and KAZGUU University are different. I'm going to bring the best methods of teaching and studying to my home university because the UK is known as a country with the best education. Erasmus+ changes lives!
Explore our other Thirty Faces of Erasmus+
Interested in going abroad as part of your Leicester degree? If you are currently studying an undergraduate degree at Leicester it may be possible to study abroad at an Erasmus+ destination. We have more than 100 exchange agreements with universities in 22 European countries, and send over 150 Leicester students to Europe each year. For more information, please email us at studyabroad@le.ac.uk.